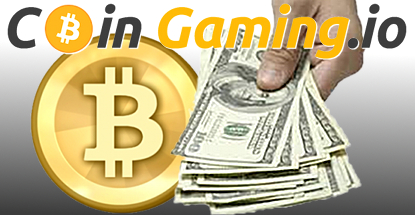 Bitcoin online gambling white-label software provider Coingaming.io continues to push the virtual currency envelope via the addition of a new sports betting platform.
On Thursday, Coingaming announced it had launched its new Bitcoin-only sportsbook product to capitalize on next week's commencement of a new English Premier League season. Coingaming spokesman Mark McGuinness said the new sportsbook would offer over 10k betting markets per week, including on less traditional events like mixed martial arts and eSports.
The company says the in-house developed sportsbook will offer "several unique opportunities" for Bitcoin gambling operators looking to diversify their offering. McGuinness believes the ability to place "larger bets on any device with better odds, instant deposits and cash-outs" will appeal to "young, smart, mobile-focused sports bettors that demand instant gratification."
BITCOIN UPTAKE LOW AMONG MILLENNIALS
Bitcoin gets a lot of media attention but a new Goldman Sachs survey paints a mixed picture for the virtual currency's adoption among US millennials. The survey found that 51% of respondents had yet to use Bitcoin and had no plans to start anytime soon.
On the plus side, 22% of respondents said they had used Bitcoin and planned to continue using it, while another 22% said they hadn't yet used Bitcoin but did plan on doing so in the future. Just 5% said their previous Bitcoin experience had turned them off future usage.
Convenience continues to play a role in Bitcoin adoption. A new Trustev study of Americans between 18 and 34 years old found that Bitcoin was the second least convenient form of paying for goods and services. It should be noted that only 63% of respondents said they'd heard of Bitcoin and just 12% had actually used it.
Cash was king, with 93% of respondents listing it as most convenient form of payment, narrowly edging out credit cards (92%) and Paypal (90%). Gift cards, credit cards, debit cards and mobile payments all scored in the 80s, while Bitcoin scored a mere 38%, just three points above paper checks.
FOLLOW THE MONEY
Despite slow adoption rates, investors appears to be banking on Bitcoin eventually ruling the digital payment roost. CBInsights recently revealed that investors have plowed 11% more money into Bitcoin startups in the first six months of 2015 than the sums invested in this sector during all of 2014.
On a deal by deal basis, the number of investments made in H1 2015 is up 63% from the same period last year. Tellingly, CBInsights analyst Matt Wong says the bulk of the deals aren't coming from venture capitalists but from bigger firms, including Goldman Sachs and the New York Stock Exchange.
Comments