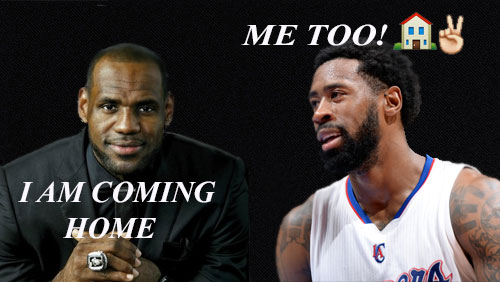 As expected, Lebron James has signed a two-year deal worth $47m with a second year player option with Cleveland Cavaliers, giving him a chance to yet again opt out.
"LeBron's re-signing is a reflection and continuation of his strong personal commitment to help deliver championships to Northeast Ohio and Cavs fans everywhere," said the Cavaliers General manager David Griffin. "His impact upon this team, his community and the game are impossible to overstate and we look forward to continuing on our mission together."
James informed the Cavs on Thursday that he was ready to sign followed by announcement of signing the deal on Friday—a pretty much done deal even after he opted out.
His latest opt out was just a strategic move allowing him to ink a more profitable deal for the upcoming season. And because he is Lebron James, a player who can bring a lottery team to the NBA Finals, he has the opportunity to sign one or two year deals that give him a chance to maximize the amount of money he can earn with the NBA salary cap set to reach $90m for the 2016-2017 season.
When he decided to sign a new deal, he was likely satisfied with how the Cavs played the team's free agency as James' favorite guys Kevin Love and Tristan Thompson were retained and paid generously. Point guard Mo Williams is also set to rejoin the team and hey, let's not forget the Aussie guy who have helped him almost get the Larry O'Brien Trophy, Matthew Dellavedova, while Kyrie Irving is recovering from injury and is set to return next season.
It looks like a plan. It is indeed an "All-in" for the Cleveland Cavaliers not just with the players' payroll, which makes Cavs the most expensive team in the history (so far), but also with its 2015-2016 roster.
DeAndre Jordan's return to Clippers
Meanwhile, DeAndre Jordan apologized to the Dallas Mavericks fans and owner Mark Cuban through Twitter, after previously verbally agreeing to join the Mavericks on a four-year, $80m deal but decided to re-sign with the Los Angeles Clippers.
I want to publicly apologize to one of the best owners in the world @MCuban, the @DallasMavs and their fans.

— DeAndre Jordan (@deandrejordan6) July 11, 2015
Contingents from the Clippers and Mavericks descended on Jordan's Houston home, which started the emoji war on Twitter.
Clippers owner Steve Ballmer and players Chris Paul, Blake Griffin, Paul Pierce and J.J. Redick didn't just stalled so Jordan couldn't talk to Cuban, they did not leave until Jordan signed.
Cuban wrote that on Monday, he and Jordan exchanged texts discussing Dallas' forthcoming roster moves, including soliciting input from Jordan on which free agents he was interested in playing with. He noted "how excited" Jordan was.
After catching wind of the rumors surrounding Jordan's change of heart, Cuban flew to Houston on Tuesday, checked into a hotel, and stopped by Jordan's house but nobody was home. He texted sporadically with Jordan, who told Cuban he was on a date but reports indicated that Jordan spent the night in his house surrounded by Clippers players and members of the organization until he officially signed to stay in Los Angeles.
Jordan inked a four-year max deal with Clippers worth approximately $88m.