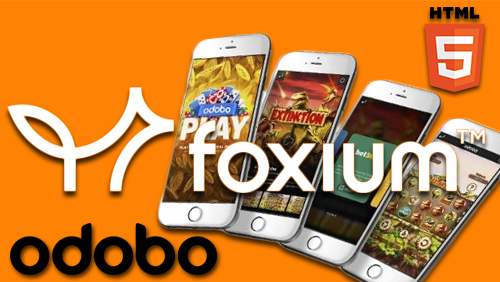 Gibraltar, 6 July 2015 – Foxium's new feature-rich casino games are coming to market in HTML5 via Odobo.   
Foxium's talented team boasts decades of gaming experience inside and outside real-money gaming with the likes of NetEnt, Sega, EA, Bio Ware and Remedy, and earned credits on Star Wars – The Old Republic. This culminates in story-driven content and strong characters packaged with 2D and 3D artwork to rival the best in the business.
Foxium explains that it first defines a compelling story, and then focuses on building out the game's features using an original maths model. This results in a fresh game creation that will enthral players and the industry. Games that Foxium delivers via Odobo will increasingly introduce more social gaming elements to enhance player engagement. This will serve to supplement the stylised artwork, skilful character design, shrewd user experience and high-production values that benchmark this studio.
Rob Smith, Head of Business Development at Odobo, commented, "Foxium is a young studio that presented Odobo with concepts that exemplify modern casino games. The first release, Big Time Journey, offers exciting new time periods for players to experience, artefacts to collect and an animated character that changes through each era. Rather than taking a player away from the storyline in the base game, the bonus features serve to enhance the plot and fluidity of the game. This studio's commitment to quality and experience is outstanding."
Daniil Sanders, Creative Director at Foxium, said, "We're looking to build out a solid portfolio of unforgettable games. Every title from Foxium has a content-first approach so Odobo is giving us room to concentrate our time and budget on the more on creative part of production. Odobo is a proven platform through which we are able to improve efficiency and quickly resolve, or often avoid, issues during the development process."
Foxium's games are built in HTML5 for cross-device compatibility that offer a quality product with a mobile-first approach.
About Foxium:
Foxium is a small and incredibly agile company. We pursue quality and precision in the detail of our projects. Our company shares an incredible mixture of creativity and experience that shows in our games.
About Odobo:
Odobo is the industry's first HTML5 Developer Program and Marketplace for the real-money gaming industry. The result is a modern, award-winning, fully distributed and cloud-enabled content solution, for the iGaming industry. Operators license content from over 40 studios via the Odobo Marketplace.
Odobo Play is a consumer games discovery channel, offering games for free with the option to play for real-money with regulated operators. Odobo Play is now available as an iOS App.
Odobo, based in Gibraltar, is licensed and regulated in the UK and by the Gibraltar Gambling Commission. For more information contact: [email protected]
http://odobo.com – corporate
http://odo.bo/play-ios – consumer
Victoria Bonner
PR & Senior Copywriter
E: [email protected]
S: Victoria.Odobo
M: +350 58007782
T: +350 200 66899
S: Victoria.Odobo
T: Vikbonner
Odobo Limited
9A Glacis Road, Gibraltar