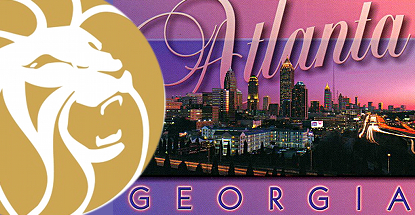 Casino operator MGM Resorts International wants to build a $1b gaming venue in Atlanta, but serious obstacles remain.
On Wednesday, the Atlanta Journal Constitution reported that MGM was scouting suitable locations in downtown Atlanta for a complex that would feature a casino, a luxury hotel, a live entertainment venue and other non-gaming amenities. MGM spokesman Clark Dumont cautioned that MGM's plans were only in "the very preliminary stages" but the company viewed Atlanta as a "beautiful market."
The market may be beautiful but it's also completely inhospitable, as Georgia is one of a handful of US states that have yet to authorize casinos within their borders. This spring saw state legislators introduce a plan to put a question on the November 2016 ballot asking voters to amend the state's constitution to remove the prohibition on casino gambling.
Rep. Ron Stephens, who introduced the pro-casino legislation and who also heads the state's House economic development committee, has been given a look at MGM's proposal and says it is "going to blow your mind." Stephens said MGM's proposal was "massive in its size and its elegance. This is a game-changer."
Stephens says an MGM casino would bring in tens of millions of dollars for the state's HOPE scholarship, which assists students in financing higher education. The program is chronically underfunded and Stephens said the MGM contributions would come without the state having to offer the casino operator "a dime of incentives."
MGM is believed to be looking at locations near the Georgia World Congress Center, as well as an underutilized area of parking lots known as the Gulch and the site on which the set-for-demolition Georgia Dome stands.
MGM has briefed multiple local politicians and business leaders on its plans and has hired five lobbyists to give Stephens' legislation a fighting chance. A January poll found 57% of voters supported lifting the casino ban.
But Gov. Nathan Deal remains staunchly opposed. Deal spokesman Chris Riley told the AJC he doubted casino legislation would be approved while Deal still occupied the governor's mansion, which he's scheduled to do until at least January 2019.
Deal may hate casinos but he isn't entirely anti-gambling, having approved the Georgia Lottery to take its action online in 2012. The lottery has gone on to expand its online palette from draw ticket sales to GTECH-powered "einstant' games it calls Diggi Games. The Lottery is currently the state's only authorized gaming operator.
Comments