RotoTracker allows effortless results tracking for Daily Fantasy Sports.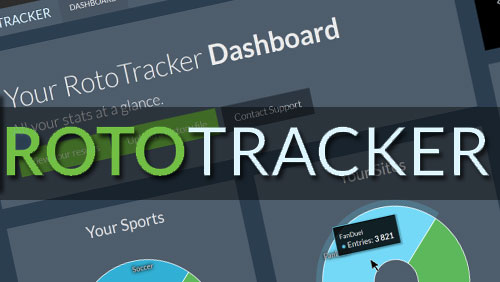 RotoTracker is a new web-based platform allowing Daily Fantasy Sports (DFS) players to track their results and find out where their strengths lie.
Launched in June 2015 in response to the growing player demand, RotoTracker fills a gap in the market for players looking to improve their game. During the beta-testing phase the product is completely free to anyone who signs up through the RotoTracker.com website.
"RotoTracker is an exciting new tool that will appeal to all DFS players," comments RotoTracker Lead Developer, Nick Jones. "Major DFS operators such as FanDuel and Draft Kings allow players to export their raw data so that they can analyze their results. But short of importing the data into a spreadsheet format, there's been nothing on the market that helps players understand their performance – until now."
On average around 40 million Americans* are playing Fantasy Sports every year with this figure set to expand. RotoTracker is compatible with both FanDuel and Draft Kings (which together makes up 90% of the DFS market*)  so that the raw exported data can be combined and understood in a format more palatable for the player to digest and – more importantly – easy for them to analyze. Support for more sites will be coming in the near future.
Key features include easy upload capabilities, graphs, opponent analysis, plus dozens of filters and reports to help players understand where they can improve their game and strategy.
Mike Gentile, RotoTracker Co-founder & online gaming industry veteran, comments: "The inspiration behind RotoTracker came from years of playing online poker and fantasy sports. Studying games, opponents and most importantly my profits and losses over time has always been my approach. After playing DFS, I was struck by the lack of any analytics tools on the market. RotoTracker will give DFS players an edge, allowing them to keep track of multiple games, bets and opponents on a daily basis."
* Statistics sourced from www.BloombergBusiness.com
For more information, images or for further comment & interviews please contact Marketing & PR Manager: Samantha Bevington, email [email protected] or call +447979046067.
Notes to Editor: 
RotoTracker is part of Fuse Media Corp, which includes an expansive portfolio of online gaming media portals and tools:
pokerfuse.com / pokerindustrypro.com / f5poker.com / combonator.com / rototracker.com
Owned and run by professional poker players, DFS players, journalists & marketing and PR professionals, Fuse Media has a wealth of knowledge when it comes to providing information to the igaming industry.