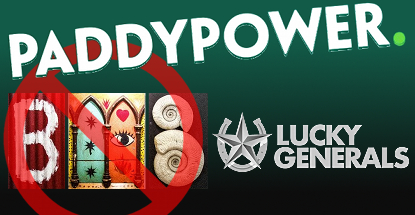 Irish betting operator Paddy Power has dumped its advertising agency just three months after handing them the job.
In March, Paddy awarded its £20m creative account contract to Beattie McGuiness Bungay (BMB) following a four-month competitive pitch. At the time, Paddy's head of brand Paul Sweeney said he couldn't wait to see "how much trouble we can get into" with its new agency while a BMB exec called the deal "a marriage in mischief." Followed, apparently, by a divorce in disappointment.
On Friday, CampaignLive revealed that BMB was out and Lucky Generals, which has worked with the Paddsters on special projects since 2013, was in. BMB CEO Juliet Haygarth told Campaign that Paddy's new marketing director Gav Thompson "arrived at Paddy Power on Monday and, by the end of the week, he had moved the account to Lucky Generals."
Paddy Power issued a statement saying it was "very grateful to BMB for their work over the past three months and wish them well for the future. We have partnered with Lucky Generals on several exciting projects in the past and look forward to teaming up with them once again on our next campaign."
Thompson is said to have wanted to start his new role with a clean slate and decided to elevate Lucky Generals to a full-time role without a formal pitch. Lucky Generals had declined to participate in the pitch session from which BMB emerged (temporarily) victorious.
BMB's lone notable contribution to Paddy's long history of public provocativeness was its IRA-themed billboard campaign promoting prop bets on the outcome of the Republic of Ireland's same-sex marriage referendum, which featured to balaclava-clad men embracing.