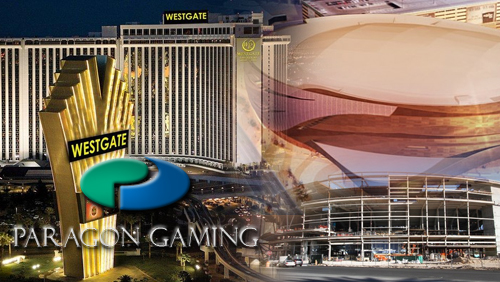 Ironworkers placed the final beam on the MGM–AEG Arena in the Las Vegas Strip on Wednesday, a milestone that occurred two days ahead of schedule.
The $375 million arena is owned by the Las Vegas Arena Company, a joint venture between MGM Resorts International and AEG Live.
AEG is in talks with several international brands for the naming rights for the building. Several companies have been signed up as partners including Coca-Cola, Toshiba and Schneider Electric.
The 20,000-seat venue plans to host the biggest names in entertainment such as UFC events, boxing matches, hockey games, college basketball games and concerts.
Premium hospitality is also being built-in with 42 suites, 26 loge/opera boxes, 14 club terrace tables, 1,600 club seats, 250 entry level club seats, two party suites/sponsor decks, eight event level suites, and two sponsor tower clubs.
This is MGM's third arena in Las Vegas and by far the largest with an outline of 650,000 square feet on 16 acres. Although the arena will be sports-ready for a pro sports team, the company said that they don't need one for the project to be economically viable.
The arena is expected to open April 1, 2016.
Paragon Gaming approved to manage Westgate Las Vegas
On Thursday, the Nevada Gaming Commission voted to allow executives from Paragon Gaming to transition to the Westgate, located just across the street from the Riviera on Paradise Road. Paragon will be in charge of both gaming and nongaming aspects of the Westgate, with the exception of its timeshare business, effective immediately.
Paragon Gaming managed the Riviera for almost two years before it was acquired by the Las Vegas Convention and Visitors Authority in February. More than 140,000 room reservations and several large conventions and meetings that had been booked at the Riviera were transferred to the Westgate.
Paragon will also replace Navegante Group as the licensed operator at the Westgate.
Comments