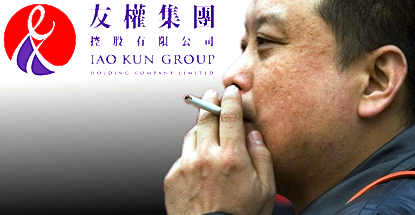 Macau casino junket operator Iao Kun Group Holdings Ltd (IKGH) carved out a bigger than usual slice of VIP wagers in Q1. Too bad the pie they were carving was so much smaller.
IKGH, which has a share in profits from five VIP gaming rooms in Macau, reported rolling chip turnover of $2.2b in the three months ending March 31. That's a 54% decline from the same period last year, mirroring the decline experienced by the broader Macau VIP gambling market. IKGH revenue fell 48% to $41.7m.
Still, things would have been much worse but for a stellar 4.1% win rate, better than the 3.6% recorded in Q1 2014 and well above the theoretical win rate of 2.7% to 3%. Net income was $17.1m, more than five times last year's $3.2m, but this quarter's figures were artificially boosted by $13.1m due to a change in fair value from last year's acquisition of King's Gaming, Bao Li Gaming and Oriental VIP Room.
IKGH revised its full-year 2015 outlook, lowering rolling chip turnover projections to between $7b and $8.5b from the previous forecasted range of $8.5b to $10b. IKGH chairman Lam Man Pou said he expects Macau's VIP slump to continue for the "near term" and thus his firm plans to "prudently manage our capital." IKGH is also eyeing further expansion efforts outside Macau similar to its recent deal with Australia's Crown Resorts.
JUNKETS SAY SMOKING ROOMS RULE, UNION BEGS TO DIFFER
Macau's government has warned its casino concessionaires that it intends to extend its partial smoking ban to cover all areas of casinos, including VIP rooms and dedicated smoking lounges on the mass gaming floor. Analysts have already said that such a plan would cause junket operators to steer even more of their clients to other, less restrictive Asian gaming jurisdictions.
Last week, an informal junket association known as the Associação de Mediadores de Jogos e Entretenimento de Macau published the results of a survey on the smoking issue. The group said it polled 12,500 individuals – some connected with the gaming industry, some not – regarding the effect of a full smoking ban. The group claims 99% of respondents believe a full smoking ban will negatively affect the casino industry and that the government should therefore allow smoking rooms in VIP areas.
The legitimacy of the association's survey has been called into question by Macau casino workers union Forefront of Macau Gaming (FMG). Union president Ieong Man Teng told the Macau Daily Times that some VIP casino staff had been coerced into giving answers their bosses wanted to hear. Ieong also claimed that staff were given extra forms to give to family members, with similar responses expected.
Ieong said international auditor KPMG was currently conducting a similar survey, which Ieong expects to be a little more impartial on the issue. Regardless of what the public wants, Macau's government seems bent on butting out across the board, so casinos ought to start buying Nicorete gum in bulk.
Comments