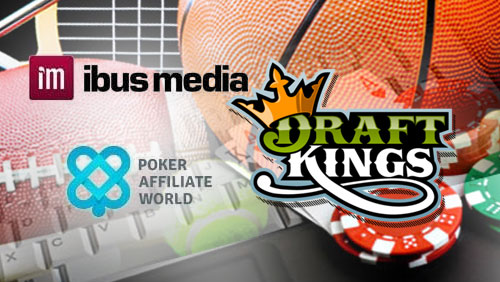 Poker Affiliate World has agreed a new deal with Draftkings enabling their parent company iBus Media to enter the North American market place for the first time since Black Friday. 
PokerNews have cemented their relationship with the Daily Fantasy Sports (DFS) market, after their parent company iBus Media agreed a deal with Draftkings that will see the pair create a new cost per acquisition (CPA) structure, allowing affiliates of all kinds to benefit from referring players to the highly successfully DFS site.
The relationship will be managed through iBus Media's affiliate marketing arm PokerAffiliateWorld.com (PAW). The news is further evidence of iBus Media's intention to get heavily involved in the DFS market. In March, iBus Media acquired the DFS portal FantasyWired.com. Speaking at the time of the acquisition iBus Media Chief Creative Officer, Matthew Parvis, told PokerNews that they had 'been keeping a close eye on the daily fantasy sports space for a while,' and the purchase of FantasyWorld.com, 'represented a great chance for the group to further explore the vertical and put the experience gained in the poker industry at the service of daily fantasy sports enthusiasts.'
This is further evidence of that exploration.
It's not the first time that iBus Media and Draftkings have done business. The highly successfully DFS company's brand has been connected with the PokerNews site since the site launched in 2012. It received $75 million in investment capital between Nov 2013 and Aug 2014.
Speaking to PokerNews, iBus Media's Chief Creative Officer Matthew Parvis said, "It's exciting to be a part of such a booming industry. With our acquisition of FantasyWired.com and now the introduction of daily fantasy sports on PAW, we're hoping to put our stamp on this and help spark the entrepreneurial spirit of both the serious and hobbyist affiliate marketers in the US."
The deal is also important because it allows PAW to break into the North American market. And boy do the North Americans like to play DFS. Millions of dollars have been ploughed into the DFS market and no shortage of former online poker players have turned to DFS in their hour of need.
PAW has more than 50 revenue share schemes available to affiliates of all shapes and sizes.
Comments