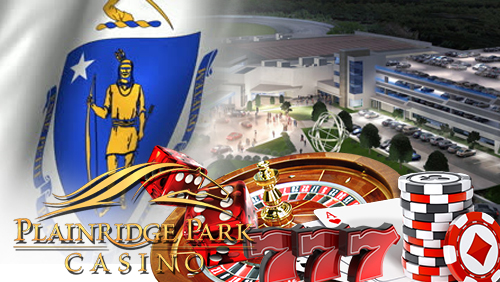 Plainridge Park Casino, the first licensed gaming facility in Massachusetts, is scheduled to open its doors for visitors on June 24.
Penn National Gaming executives gave a tour around Plainridge on Friday. The $250 million casino is built on the site of the Plainridge Racecourse, which will continue offering harness horse racing and wagering. Although there are gaming machines yet to be installed and certain other finishing touches to be put, Mike Thoma, VP of Operations, and Lance George, General Manager of the facility, promised that it will be fully functional on the scheduled opening, 24 hours a day.
"It's pretty exciting," said Thoma. "Everybody's looking forward to getting to the endgame here."
Besides the 28 electronic table games, the Plainridge casino will also feature 1,250 slot machines, as well as video casino games such as poker, blackjack, and baccarat.
Beyond the gaming floor, there will be a food court, restaurants, and 1000-space parking lot. Among the highlights are Flutie's Sports Pub, developed by the former Boston College and New England Patriots quarterback Doug Flutie, and the Revolution 1776 Lounge, which will offer live entertainment options as well as slots and poker machines.
"People tend to think of us as a smaller version of a gaming facility, but I think people who come here will discover that there's a lot going on at Plainridge," said George. "We're envisioning a lively, noisy, exciting atmosphere."
Plainridge Park Casino marks the beginning of the Massachusetts' casino era.
MGM Resorts is expected to open its $800 million resort casino in Springfield in 2017 and a year later for Wynn Resorts' $1.7 billion casino in Everett.
A third resort casino is under consideration by the State Gaming Commission for Brockton, New Bedford, or Somerset.
Comments