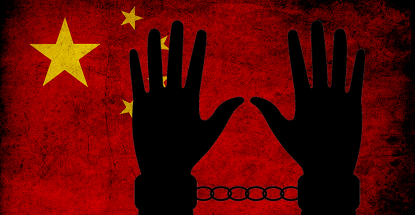 Chinese authorities have arrested over 1000 people involved in a huge illegal online gambling network.
On Wednesday, Guangdong province's public security department announced the results of an operation dubbed '221' that involved around 200 online gambling sites hosted on Thailand-based servers. Around a dozen individuals are believed to have set up the password-protected websites, which were then rented out to individual agents for between RMB 70k to 100k (US $11,300 to $16,100) per month.
Police began arresting some of these agents last June, just as the 2014 FIFA World Cup was getting underway. By December, a total of 1,071 individuals had been detained, and over 500 of these remain in custody. Bank accounts containing a total of RMB 330m ($53m) had been frozen but the authorities believe most of the betting money was transacted in cash and via illegal private banks.
The Xinhua news agency reported that these illegal sites collectively handled RMB 400b ($64.56b) in wagers per month from a total of over 400k gamblers. Bettors reportedly lost RMB 9b ($1.45b) to these sites in the month of December alone. Around 125 of the websites allowed bettors to wager on the results of the Shishicai national lottery, allowing the Ministry of Public Security to call the bust the largest lottery-related case on record.
Last month, police in northern Liaoning province broke up another online gambling ring in Dalian City. Authorities arrested 11 individuals, all of whom were foreigners, and seized RMB 610k in cash. The ring reportedly had over 3k clients and had a turnover of RMB 57m.
GUO MEIMEI CONFESSION APPARENTLY INSUFFICIENT
The illegal gambling prosecution of Chinese social media starlet Guo Meimei has hit a snag. Guo was arrested last July after promoting international online betting sites via her popular social media feeds. Guo eventually appeared on China Central Television to tearfully confess her crimes, which also included hosting an illegal underground casino and prostituting herself with wealthy men.
But this week saw a Beijing procuratorate reject the case for the second time, reportedly due to a lack of evidence. According to local law, a second rejection is supposed to render the prosecution's case moot but Guo has been given a new court date in June, assuming the police can garner sufficient evidence to convince prosecutors they have a shot at a conviction.
Comments