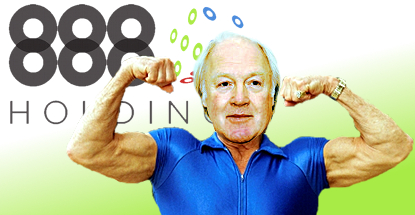 UK-listed online gambling operator 888 Holdings has "never been so healthy in our lives," according to CEO Brian Mattingley (pictured).
Mattingley said 888 was "on fire" after posting record profits in 2014. Revenue in the 12 months ending Dec. 31 rose 14% to $455m, adjusted earnings jumped one-third to $101m and profit before tax gained 28% to $68m. 888 shares rose nearly 4% on Tuesday to close at 158.5p.
B2C revenue rose 11% to $391m. Online casino revenue was up 16% to $220.6m while bingo gained 7% to $47m. 888's poker vertical was flat year-on-year at $94m, although, given the negative state of the global online poker market, flat revenue represents something of a major victory. Active poker player ranks rose 8% in Q4.
888's 'emerging offerings' rose 22% to $30m. This category includes 888's Kambi Sports Solutions-powered sportsbook 888Sport, which reported revenue up 115% thanks in part to the 2014 FIFA World Cup. Mattingley called the sportsbook performance the "undoubted highlight" of 888's 2014 report.
888's Dragonfish B2B division reported revenue up 32% to $64m after a full year of contributions from all three US regulated online markets and the addition of 13 new bingo skins.
On a geographic basis, the UK market accounted for 44% of 888's overall revenue, while continental Europe ranked second with 38% and the US market third with 12%. 888's UK market revenue was up 23% in 2014, Europe rose 5%, the Americas gained 19% while the rest of the world – which was "not a focus region for 888 in 2014" – shrank 5%.
Trading to date in 2015 is down 6% from the same period last year, but up 7% after accounting for currency fluctuations and the introduction of value added tax in certain jurisdictions.
888 warned that the UK's new 15% online point of consumption tax will take a $30m bite out of 2015's earnings, but 888 also sees opportunities to steal market share as smaller operators are marginalized. Mattingley told analysts that he expects 888 "will be party to something" on the acquisition front, although he clarified that he was "not speaking with anything in mind."
888 was the target of a £744m takeover bid by rival William Hill but the offer was ultimately rejected over "a significant difference of opinion on value." Mattingley said he was "flattered" by Hills' interest but declined to speculate on whether Hills would take another stab at acquiring 888.
Mattingley added that the Shaked and Ben-Yitzhak families, who collectively control nearly 60% of 888, were "not natural sellers for cash but they would be supportive of 888 being a consolidator." Mattingley said the families would view an all-share combination with a rival as "a positive move."