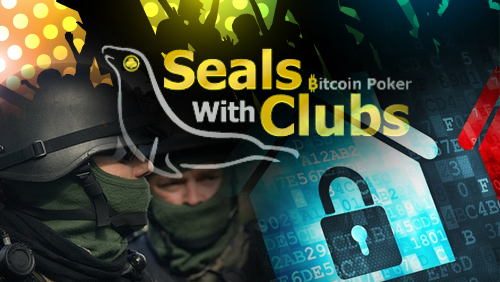 [polldaddy poll=8683836]
Bitcoin-only online poker site SealsWithClubs (SwC ) shut down last month due to what was described as technical issue after the home of its founder Bryan Micon was raided at gunpoint by the police, which is why we decided to ask our readers, "Were the SealswithClubs' technical issue and police operation related?"
Most of our readers seemed to agree as 77% voted "Yes" and only 23% voted, "No."
Prior to the raid, SealswithClubs users complained a series of technical problems that made the room unavailable on Feb 11, then Micon's video came out a few weeks later, describing how police raided his home on the same date; served with a warrant from the Nevada Gambling Commission accusing him of violating Nevada Revised Statutes NRS 463.750(10b) and the operation of an interactive gaming site without all required licenses, although Micon wasn't formally charged with any crime.
Micon said that the timing might be suspicious but he hasn't been able to make a connection between the two occurrences himself. "It's true, there have been some irregularities with our server that coincided exactly with the time that my front door was broken down, and it seems too unlikely for these things to not be connected. Right now, however, it's simply impossible to understand what exactly happened," Micon said.
Now, SealswithClubs has been re-launched and rebranded as SwC Poker, offering a wider choice of games, more freerolls and rakeback of up to 50%.
Following the relaunch, Micon published a statement saying, "What a brilliant few days for Bitcoin poker. The successful launch of SwC Poker has been met with worldwide cheer. New games and features are online, such as OFC pineapple, badeucey, badacey, 12 game, dealer's choice, and many more, available in Cash, SnG, or MTT format. OFC/p MTTs have quickly become a crowd favorite. Look for cash game stakes to slowly increase as confidence in the new system builds. Thanks for the outpouring of support for SwC. We are happy to be back and serving the btc poker public."
Next week, we ask, "What will be federally legalized in the USA first, Recreational Marijuana or Sports Betting?" Marijuana is making its way in the US, being legalized in Colorado, Washington State, Alaska, the District of Columbia and this July in Oregon; while sports betting is being described as "inevitable." Join our weekly poll and check back next week to see the result.