Indian online poker has their first professional poker team after Adda52 unveiled Team Spades. A group of four players hired to spread the game as a professional sport both in India and internationally.
The ambiguity over whether online poker is legal in India doesn't seem to be bothering Adda52. The site that claims to be the first to ever offer online cash games in the South Asian country, has set another record by creating the first-ever Indian professional poker team.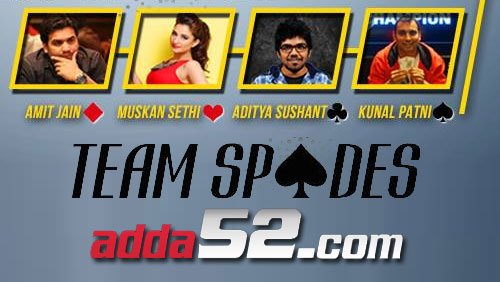 Amit Jain, Kunal Patni, Aditya Sushant and Muskan Sethi will now be collectively known as Team Spades. They will represent Adda52 both online and live. Part of their job description will be to promote the game as a professional sport, both in India and the rest of the world.
That job was made a little easier, a few days ago, after the Indian Supreme Court sided with printing firm Parksons Graphics, who were arguing that a 1% tax rate should be lopped off their bottom line because poker is a physical sport.
Whilst Chief Justice HL Dattu may believe holding cards in your hands creates physical exertion, the jury is still out over the debate that poker and gin rummy are games of skill. It seems Fifty Shades of Grey is not only a term used to define a really crap movie.
Team Spades have so far won $160k between them in live tournament earnings. Only Patni has a decent score to talk of after winning a side event at the Asian Pacific Poker Tour (APPT) in Oct last year.
"Poker is truly a game of skill. It requires its players to have a highly calculative and methodical mind," said Anuj Gupta from Adda52.
At the beginning of the year we brought you news that PokerStars had hired Aditya Agarwal as the first representative of Team PokerStars India. Agarwal has over $400,000 in live tournament earnings, and an impressive online resume.
Adda52 is owned by Guassian Networks Pvt. Ltd. India's leading Online Gaming Portal specializing in games such as Scrabble, Rummy, Chess and cards. It was founded in 2011.