Lee Davy sits down with Mark Valentine, of Main Event Travel, to talk about what they can do to simplify the life of a poker player.
I am not a fan of traveling.
Give me a Beam Me Up Scotty machine any day.
It's such a pain in the ass.
MainEventTravel exists to remove that pain in my ass. They listen to the needs of the poker player, and they find solutions. As the name implies, travel is a big part of what makes them successful, but it's more than that. There are plenty of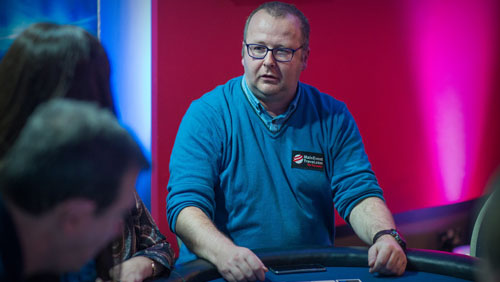 companies eager to get you from A to B. Only MainEventTravel know who you are. A company of poker players made for poker players.
During my recent trip to the 888Live Local event in Dublin, I was able to sit down with MainEventTravel's Mark Valentine.
This is what he had to say.
So, Mark, what is MainEventTravel?
"MainEventTravel was founded 3-4 years ago with a view to provide value for the traveling poker player. There are hosts of websites that don't necessarily focus on resorts used by poker players, and sometimes the information you need isn't there. We fill that gap.
"Last year, for example, we had a player who was coming to the UK for the first time. He was playing in an event in Nottingham and didn't know how to get from London to Nottingham. We were able to help him get from London to the casino. We are more of a bespoke service for poker players.
"Poker players will have some specific needs that they are looking for. Everyone who works at MainEventTravel either plays poker or has played poker. Our Managing Director plays semi-professionally. We know who they are and what they want. We know there are a huge spectrum of players with different wants and needs. We try to accommodate them all."
Who are some of your partners?
"We are the official travel partner for the PokerStars UKIPT, the GUKPT and the Genting Poker Series. We are also in discussion with numerous other companies, and hopefully, we will have some more news on that as we approach the summer.
"What's great about our relationship with our corporate partners is we have access to the poker calendar. This allows us to lock up some pretty good deals in advance. We might not have the cheapest deal all of the time – perhaps 95% of the time – but we will help you save money if you do business with us over time."
Is the World Series of Poker a busy time for you?
"It's a very busy time of the year for us. Last year was a record breaking year for us in terms of the number of players we dealt with. This year we are expanding. We have a partner in the US that has a series of homes ranging from one-bedroom condos to six bedroom balla pads with cinema rooms, pool tables and all the other mod cons. We don't want to just offer a standard hotel for six weeks. We want to do so much more than that. I lived in Vegas for 18-months so I know a bit about the place."
What are some of the strangest requests you receive?
"Can we get a four star hotel for £30 per night! It doesn't work. We do our best to accommodate what everyone needs, but it's tough to get balla pads for half the price of a Travelodge. We get great deals – not giveaway deals.
Are you looking to expand beyond purely travel and hotel solutions?
"We are looking to expand with strategic partners, at the WSOP this year.  We are looking into other needs players have whilst in Las Vegas for six weeks; something you are not going to get if you pick up a hotel on a standard travel website. We may be the same price as Expedia, for example, but we will offer more value in other areas. We offer the personable service.
What Are Your Toughest Challenges?
"Our toughest challenges are always finding the right solution for our clients. That means adding extra value. For example, we have a great deal in Nottingham where our hotel partner is prepared to do breakfast for our customers up to 1pm. How many poker players miss breakfast because they play so late? It's little things that matter to poker players."