Andrew 'luckychewy' Lichtenberger has joined ranks with the Poker Players Alliance in the war against Sheldon Adelson, and anyone else trying to ride roughshod over a fully regulated online poker market in the U.S.
We are at war.
Sheldon Adelson and his band of Crony Capitalists have taken up arms. They have loaded up the tank with shells full of RAWA and the cannon is aimed directly at Capitol Hill.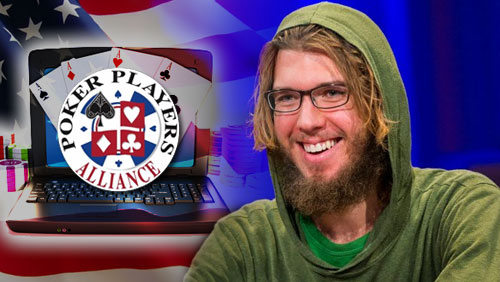 Who will stop them?
Who is going to save the world of poker?
It feels like an unfair fight. He has all that money, all that influence and organization. That's going to be the killer. The octogenarian is more organized than we are. He has a plan. Our only plan is to hope he dies of old age before RAWA gets underneath the fingertips of a man without morals.
The online poker industry is in the midst of conflict.
Here's the thing about conflict.
It's not a bad thing.
Conflicts only become a bad thing when we respond in a bad way. Respond creatively, and constructively, and conflict can be a catalyst for change.
But whom is that response going to come from?
Who is prepared to fight the Cronies?
Step forward Andrew 'luckychewy' Lichtenberger.
The man who won $1.7m at the $100,000 World Poker Tour Alpha8 event at The Bellagio, dressed as a Woodland Elf, has magic flowing through his veins. He's a winner, on and off the felt, and he's the perfect person to spearhead a constructive and creative conflict.
13 Feb 2015 – Lichtenberger tweets that he has met with the Poker Players Alliance (PPA) Marketing Director Drew Lesofski – a man who has been with the PPA since 2008. Talking about Lesofski, Lichtenberger tweets: "He is incredibly passionate about fighting for poker." Later that day, Lichtenberger, urges more pros to catch up with him and lend their support before he meets with the PPA for a second time.
17 Feb 2015 – Lichtenberger tweets that he will be attending the Conservative Political Action Committee (CPAC) to engage politicians and political groups to rally behind the online poker charge.
19 Feb 2015 – Lichtenberger meets with the PPA for a second time.
20 Feb 2015 – Lichtenberger tweets that the new mantra should be to 'Engage and Create.' The Lichtenberger message is loud and clear: "Engage obstacles to online poker and create win, win solutions for players, communities, small businesses, technology companies and brick and mortar casinos." His positivity starts to reverberate around the poker industry. Poker Hall of Famer, Mike Sexton, publicly thanks Lichtenberger for taking up the fight to regulate online poker.
21 Feb 2015 – Lichtenberger vows to engage with the most advanced military contractors in the world with a view to create a greater understanding of the security and safety that is possible for online poker.
"Online poker is emerging as one of the worlds most popular games and American military companies have the unique opportunity to create a safe cyber platform for America to host the world and share innovation in conjunction with advertising American made technology systems." Tweets Lichtenberger.
Get your hard hats on Ladies and Gentlemen; this fight is just about to get interesting. For once we have a real bone fide poker player taking up the fight.
Conflict resolution generally takes one of three avenues: either the stronger party dominates the weaker one; both parties reach an unsatisfying compromise, or integration occurs – creating a solution that works for both parties without the need for compromise.
I don't think integration is beyond belief.
Neither does Andrew Lichtenberger.
The Woodland Elf who now carries the fight for regulated online poker in the United States.