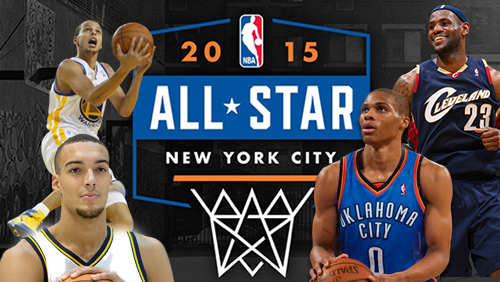 The NBA's annual mid-season classic has come and gone and boy, it was pretty special, wasn't it? I'm not usually that excited over the festivities of the NBA's All-Star weekend, but this year proved that it can still catch the attention of hardcore and mainstream fans alike.
I like to consider myself in the first category so I've seen my fair share of All-Star games. Some lived up to the hype. Some didn't. But over the past few years, I've grown disenchanted about what happens during the weekend. Everything seemed staged and even the games themselves have turned me off.
Ahead of this year's festivities, I had to find a way to get excited about All-Star weekend. So I did what any self-respecting sports gambler would do. I sized up the events and I bet on them, not knowing exactly what to expect. So I put a few units on some of the props, specifically the winners of the Three-Point Shoot Out, the Dunk Contest, and the Shooting Stars game. I didn't win all of them, but I made enough to at least break even for the weekend.
Ultimately, I ended up watching a lot more of the All-Star weekend than I probably should. But for what its worth, I actually enjoyed what I saw, especially the All-Star game itself. Shout out to Russell Westbrook for cashing in on those 15/1 odds for All-Star Game MVP.
The All-Star game had a plethora of props but I'll focus on those that I bet on. The BBVA Compass Rising Stars Challenge was the first on my ticket and while my bet didn't cash – Rudy Gobert at 25/1 odds – the Stifle Tower did make it interesting with a very productive showing. If it weren't for Andrew Wiggins – the favorite at 3/1 odds – I probably would've celebrated a huge win to begin my prop-betting on All-Star Weekend.
Saturday's festivities included a host of events, although some of my money went to the Three-Point Contest and the Dunk Contest. I lost out on the Greek Freak and his 3/1 odds to win the Dunk Contest, but I did make good scratch on Steph Curry winning his first Three-Point Shootout at 13/4 odds. Not a lot of money was won, but it was still decent enough to spot a few bets on the All-Star Game MVP.
Speaking of the actual All-Star Game, I put money down on MVP on four players with the hope that at least one of them would cash in. I had two of the favorites at bigger sums – Steph Curry at 13/4 odds and LeBron James at 7/2 odds – and two longer shots – Russell Westbrook and John Wall, both at 15/1.
In the end, Westbrook pulled through, scoring 41 points and leading the West All-Stars to a 163-158 victory over the East. The only regret I had was not putting more on Russ, but hey, at least I made out quite well after he fell just one point shy of tying Wilt Chamberlain's All-Star game record of 42 points.
So here's the lesson I learned that I'll probably apply moving forward: if you want to enjoy the NBA All-Star Game, betting on the props are a sure-fire way of becoming more interested in the festivities.