Lee Davy takes a look at a week in poker that sees a lot of talk and no action in the American online poker dreamscape, more great ties between charity and poker, the usual poke into the life of Dan Bilzerian, Alex Dreyfus feeling the Twitch, and Kara Scott happy to be on tilt.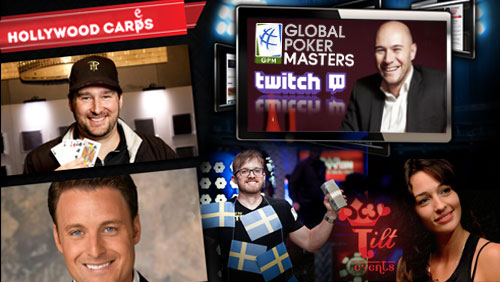 Another fun filled week of poker news stories and it begins in the land of the free, and the home where you can own more artillery than a character on Resident Evil but can't play online poker.
I am, of course, talking about the not-so United States of America.
Do you want the good news or the bad news?
Bad news?
Ok.
Online poker players living in the states of Mississippi and Washington can lose the smiles. Efforts to push online gambling legislation through the halls of power have stalled. Neither effort got the support that it needed and the paperwork has since been filed in the 'try harder next time pile.'
Don't worry.
It gets worse.
Whilst the solid opinion is the Restoration of America's Wire Act (RAWA) will never see the light of day. One person, who is in the know, has a different opinion. As the former CEO of partygaming, and current CEO of Pala Interactive, some would say Jim Ryan knows what he's talking about. So we should be worried when he says that RAWA has a good shot of passing. Those were the words he used during an exclusive interview with PocketFives. News that would have pricked the ears of Nevada, Delaware and New Jersey I am sure.
On a more positive American front, the Californian tribes got together to find common online poker ground at the 20th Annual Western Indian Gaming Conference (WIGC). The usual arguments involving bad actors and the involvement of racetracks were thrown into the air like confetti at a wedding. A lot of talk, a lot of confetti, and nothing left behind but a lot of mess.
From one part of California concerned about bad actors, to another part that is more interested in the good ones. Phil Hellmuth has sent out a timely reminder of why he is good for poker by being declared as the host of a pre-Oscars poker charity night called Hollywood Cares.
Hellmuth will be joined by the likes of Kim Coates (Tig Trager – Sons of Anarchy), and Dean Norris (Hank Schrader – Breaking Bad) as co-hosts of an event that will see money raised for the One Heart Source and Wounded Warriors charities.
One poker player who holds charity very close to his heart is the World Champ Martin Jacobson. The London-based Swede has donated $250,000 to the non-profit organization Raising for Effective Giving (REG). Stick that one in your warm milk and drink it Sheldon Adelson.
Let's quickly make the transition from a young man who likes to spend his money saving the world, to a young man who likes to spend his money blowing it up.
It came as no surprise to learn, this week, that Dan Bilzerian escaped a prison sentence for blowing up a tractor in the middle of the Nevada desert, after shooting an incendiary device with a high powered rifle. What did surprise many was the fact that he was only charged with failing to put out the fire his explosion caused.
Back on to people that we do care about and the Godfather of Poker needs all of our support as he enters hospital to undergo the 12th major surgery of his life. Brunson needs to have a melanoma removed from his head, and our prayers go out to Texas Dolly in his time of need.
Another week and another game of sponsored professional poker player's musical chairs. Last week we brought you news of Vanessa Rousso and PokerStars parting ways, and this week we have news of two more starlets making headway.
Xuan Liu has announced on Twitter that she will be leaving 888Poker. The Canadian joined the team in April 2014, along with the former PKR sponsored pro Sofia Lovgren. Liu didn't go into any great detail regarding the split. There has been no word regarding the fate of Lovgren.
Not everyone is leaving. Kara Scott has found a new partner in Tilt Events. The Italian based poker industry event organizer has hired her as a brand ambassador and consultant. Joining her will be her husband Giovanni Rizzo, making them the only married couple to represent the same poker brand in this wonderful world of ours.
Scott's new role with Tilt comes hot on the heels of her appointment as the host of the inaugural Global Poker Masters. The ESPN Sideline Reporter has experience on her side, but I'm sure the butterflies are fluttering after Dreyfus announced plans to host the live stream on the video games streaming site: Twitch.
With over 100 million viewers per month, this could be the catalyst for a new poker boom. Dreyfus is also hoping that the 100% live feel of the game will allow a breakthrough for sports betting. No announcements have been made with sports betting partners quite yet, but keep your ears pinned to the ground for that one.