The Global Poker Masters will be streamed live on Twitch, after the pair shook hands on a groundbreaking deal for poker.
Do you know what Twitch is?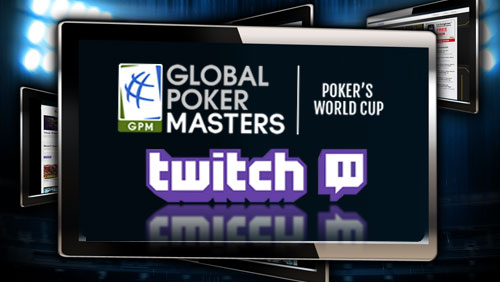 No?
Do you have a teenage kid?
You need worry no more. They are not watching porn. They are not watching ISIS Thanksgiving Turkey cutting videos. The videos that your son or daughter plays repeatedly on their phone are probably coming from Twitch.
Twitch is a live streaming video platform that is so powerful Amazon paid $970 million to acquire it in 2014. It originally started out in life as Justin.tv, and was created by Justin Kan and Emmett Shear, two people who are now incredibly rich, after creating a product that received 100 million monthly viewers earlier this year, broadcasts 11 million videos per month, and is more of a Mummy or Daddy to your kids than you will ever be.
It's also going to be the home of the Global Poker Masters (GPM) thanks to the foresight and genius of Alexander Dreyfus.
In an exclusive interview with PokerNews, (what's the matter Alex, not good enough for ya!) Dreyfus spoke with some justifiable pride about how it took months of negotiations to ink a deal with the management team at Twitch.
"We want to be where the audience is," GPI owner Alex Dreyfus told PokerNews in an exclusive interview on Tuesday. "Our audience is online and on Twitch, and that's why we are going to use this great and innovative platform to bring our initiatives to a new public."
The inaugural GPM will take place as part of the European Poker Tour (EPT) Maltese Festival March 21-22 and the live stream will be available on the front of the Twitch Homepage. The event will also be screened in five different languages, and will also be available on a number of other sites such as PokerStars.tv, PMU and Winamax.
What makes Twitch so fantastic is it's interactive capability. Jason Somerville has to take a bow as the poker pioneer when it comes to the relationship poker has with Twitch. With over 50,000 followers his Run It Up show at the jcarverpoker channel is the premier poker offering on the Twitch platform. Somerville streams his live online play whilst interacting with his fans that are able to write into the chat box in 'real time.'
Kara Scott, who recently signed for Tilt Events, and will act as the presenter for the GPM, wrote on Facebook.
"This is going to be awesome. I'll be hosting the GPI Masters and we'll be broadcasting it as a promoted product on Twitch. No pressure…"
The interview with PokerNews also revealed for the first time that there will be a shot clock used during the event (unless I missed it previously), and Dreyfus is very excited about the possibilities the live feed opens up for online sports betting.
So far only #TeamFrance have announced their full line up with Erwann Pecheux, Bertrand 'ElkY' Grospellier, Paul Tedeschi, Sylvain Loosli and Patrick Bruel all confirming their intention to play in Poker's World Cup.
Comments