Dan Bilzerian will not be spending time behind bars, for blowing up a tractor in a Nevada desert, after the judge allowed him to plead guilty to a misdemeanor charge of failing to put out the fire Bilzerian's home made bomb created.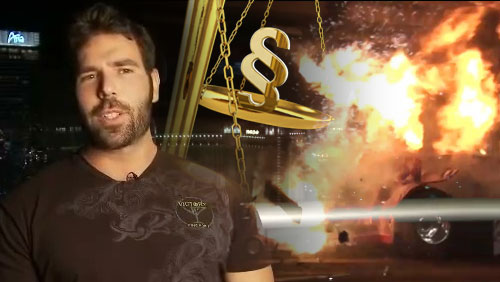 Dan Bilzerian – the self proclaimed most successful poker player of 2014 – has just proven that although money can't buy you happiness, it does come in handy when you want to avoid a 12-year prison sentence.
You may remember that Bilzerian, and his buddy Jeremy Guymon, were arrested at Los Angeles International Airport, on 11 Dec 2014, after the fuzz used every ounce of their Sherlock Holmes detection prowess to link the pair with the explosion of a tractor in a stretch of Nevada desert.
Bilzerian had boasted about it through his social media channels; not exactly a smart move when a million airheads follow his every move.
The pair were said to have bought an old tractor, rigged it with explosives, and then blew it up by shooting the detonation device with a high-powered rifle. Nearby hikers had to duck as pieces of the tractor flew into the air. The incident happened on 4 Nov 2014.
Friday was judgment day for Bilzerian and Guymon, but they were so confident they didn't even turn up to face the Nevadan beak. Instead it was left to Bilzerian's lawyer, David Chesnoff, to tell the judge that his clients would plead guilty to a misdemeanor charge of negligently failing to extinguish a fire in the open, and also make a public service announcement, on behalf of the Bureau of Land Management, urging people not to buy tractors, rig them with explosives, and then shoot the detonator with a high powered rifle, when not on your land.
I guess doing it in your own backyard is fine then.
Boom!
The US legal system does it again.
Can someone please enlighten me as to how a charge of possessing a component of explosive or incendiary device, with intent to manufacture explosive or incendiary device and possession of explosive incendiary device, can be reduced to a charge of failing to put out the fire that the explosion thus creates?
I nearly forgot.
The multi-millionaire was also fined $17,231.50 to cover the cost of the clean up operation. I can't wait to hear the public service announcement.
The name of the judge was Joe Sciscento, and how Bilzerian's lawyer, David Chesnoff, would have loved for this man to be in charge of the other high profile poker related case he is managing: the Paul Phua Illegal Sports Betting Case. Perhaps, he could have pleaded guilty on the lesser charge of not knowing that Brazil were going to smashed by Germany in the World Cup Semi Final?