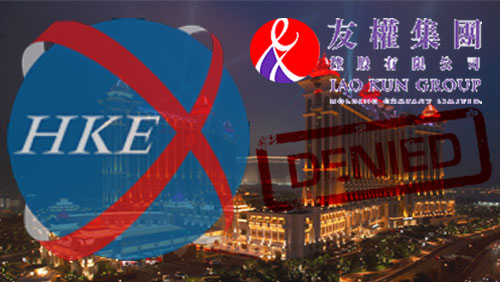 Junket firm Iao Kun Group Holding Co Ltd. has received a letter from the Hong Kong Stock Exchange declining the firm's request for listing.
"Based on the information we provided to the Stock Exchange and the media reports, the letter indicates that, due to the declining financial performance of the Company, the unpredictability of the Company's revenues, the overall market conditions and the near term industrial outlook in Macau, and certain related party payments made to Pak Si (as already disclosed in the Company's public filings), the Stock Exchange is unable to proceed further with the Company's listing application at this time," said Iao Kun
The casino junket investor, previously known as Asia Entertainment Resources Ltd., said that "the company is financially stable, with a track record of profitability" despite the reported net loss of $12 million in the third quarter ending September 30 and approximately 3% year-on-year decline in 2014.
Iao Kun Group also said that its management is looking at the company's declining performance as just a temporary setback resulting from slow economic growth in Mainland China, the tightening of its credit extension policy, and the anti-graft campaign launched by the Chinese government in 2014. The company's management is committed to explore business expansion opportunities including, but not limited to, finding VIP rooms in new locations and strategic investments to maximize the shareholders' return in due course.
The junket firm had expressed an interest in a dual listing in Hong Kong since 2013 and made a formal application in June 2014 through a process called listing by introduction, whereas a company that has shares issued on another exchange can—subject to local regulatory approval—list its shares in Hong Kong without raising new funds or issuing new shares.
Iao Kun Group Holding Co Ltd. is listed on the Nasdaq in New York and its shares closed flat at US$1.11 on Wednesday.
"Although we were hoping that listing on the Stock Exchange would increase and diversify our shareholder base, we are committed and will strive to achieving those objectives even without such a listing. We believe that our listing on the Nasdaq Stock Market provides us with a suitable platform for achieving those goals," Iao Kun added.
Comments