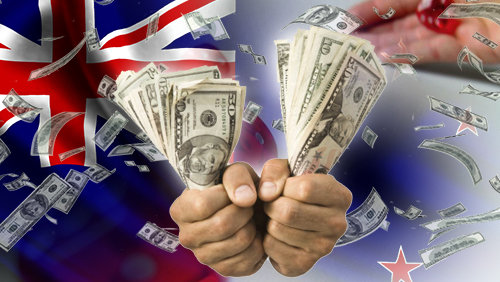 Residents of New Zealand spent almost $2.1 billion on the four main forms of gambling—racing, lotteries, casinos, and gambling machines outside casinos—in the 2013/2014 financial year, according to stats released by the country's Department of Internal Affairs (DIA).
Gambling machines outside casinos generated $808 million, down $18 million compared to the previous year's tally and the lowest amount spent in the past five years. Second on the list are casinos, which accounted for $509m, down 2.1% from the previous year.
The drops in gaming machine and casino spending were offset by the increased TAB racing and sports betting. The 2014 World Cup attracted over 10,000 new customers, boosting bets by 5.6 per cent to $311 million.
Lottery spending rose 7.3% to $463 million, continuing a streak of increased lottery sales since 2003.
All in all, the $2.1 billion Kiwis spent on gambling represented a 0.9% increase from the previous year, but fell 20% short of the country's record in 2004 when gamblers spent $2.61 billion when adjusted for inflation.
All four types of gambling allocated funds that were distributed to a number of community-related purposes. Non-casino gaming machine trusts gave back the biggest amount – $242 million – while the lottery sent $231 million to the Lottery Grants Board for "community and service projects."
Meanwhile, the New Zealand Racing Board allocated $137 million, mostly to support racing club activities and infrastructure while casinos shelled out just over $3 million to their respective community trusts.
Comments