This is a guest contribution by Stephen Padveen, a Senior Partner with t2Marketing International. . You can connect with t2Marketing International at one of their upcoming appearances. If you would like to submit a contribution please contact Bill Beatty for submission details. Thank you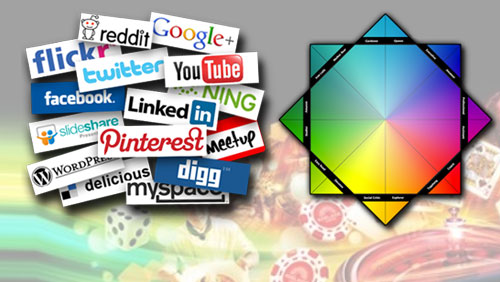 There are billions of user accounts across the social sphere, and it can sometimes be difficult to determine what niche among these user clusters you should be targeting with your social messages. Virtually every one of them holds value for some vertical or another, but which one or ones matter to you?
When developing a social media player archetype that you can be targeting with your casino's message, there are a number of criteria that should be considered. Several of the twenty criteria listed below might seem trivial, but all of them are important items that can be targeted on social channels and should be included in your checklist when building out a new target demographic profile for your social messaging.
Age
Obviously, your messaging will vary based on the age of your targeted market. Moreover, considering the legal issues surrounding the world of gaming, age is going to be an important distinction at the outset.
Location
We will want to consider the legal restrictions of marketing to a given region. After that, it will be a question of message viability and player characteristics in different parts of a country or the world.
Gender
Women and men will have different tastes and preferences when it comes to their responses to marketing materials. With that in mind, you might want to consider crafting your social message with a specific gender in mind.
Relationship Status
It might surprise some marketers to discover that marital status is a criterion that can very easily be targeted on social media.
Education
Another criterion that can easily be targeted and may be a key determining factor in your social messaging structure is the level of education that an intended audience has.
Language
You don't want your messaging to fall on deaf ears, and by that same token, you don't want your messaging to fall on the ears of those that cannot understand it.
Engagement
When is the last time a user has engaged with your brand on social media? This is a practice common with email, but monitoring player engagement on social networks is another useful tactic when crafting your messaging.
Existing Audience
Are you targeting users that are already connected to your social profiles, or are you going after users that are secondary or tertiary connections?
Interests
Do these social media users like sports, crochet, fine dining, or travel? Consider interests seriously when deciding how you would like to position yourself when sharing a message for your casino on social media. (And that is not just the interests that pertain to you property's services or games.)
Online Spenders
Do these users spend money online? Are they active or engaged spenders? Have they spent in the past, but are no longer spending now?
Job Seniority
Where does a user rank in his or her company? This can be useful when deciding whether your message should be brief and to-the-point, or if you can go into some detail. (Will they take the time to read it?)
Industry
Another criterion that relates to a user's professional life has to do with the industry he or she is in. Do they work in a risk seeking or risk averse environment? That will help you determine the rhetoric of your message.
Browser
Why would you target a user with a browser that is not compatible with your properties assets?
Phone OS
This is another question pertaining to the technological aptitude of the user you are targeting. Work to identify the OS your audience is most likely to be using.
Connections
The idea of targeting people based on secondary and tertiary circles is discussed above, but what about targeting people based on whether or not they are connected to a competitor? How will your messaging change then?
Industry Knowledge
Experienced players do not want to hear about the basic rules of roulette, and newbies know far too little to care about advanced parlay options. When you know how much your audience knows, things become much more personal.
Gamers
Do the users you plan on targeting play any other online games? How can you leverage that knowledge in an effort to convert them quicker than other users?
Tech Adoption
Are these people early or late adopters of technology? How can you structure a message in order to cater to the different personality traits of these two types of users?
Hobbies
Based on a user's hobbies, what can you say or how can you position your casino in such a way that it caters to something they already know and love?
Brand Affinity
Does your target user have an affinity for another brand already? Is there any way to convince him or her to move over to your casino?
Naturally, any time you create a player archetype that you would like to target on social media, some of these criteria may change, and some may not be included at all. But these are certainly criteria to consider, and understanding the power of social media in order to break down your audience at such a granular level will make targeted messaging and player acquisition campaign development significantly easier.
t2 Marketing International is a fully integrated marketing and communications firm with a 25-year history, including 19 years in digital marketing and over 8 years in social marketing.
t2 will be giving a Keynote Presentation at ICE on Feb 2nd titled "Improving Customer Service by Adopting Social Media as the Core of Your Customer Strategy".
For more information on t2, please visit www.t2marketinginternational.com or contact Stephen Padveen at [email protected]