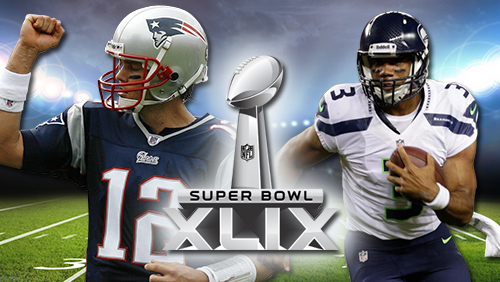 We can talk as much as we want about the Rob Gronkowski, Marshawn Lynch, the Legion of Boom, or even DeflateGate. But Super Bowl XLIX will eventually go down to discussions between the two most important players on both teams.
That would be the two quarterbacks, Tom Brady and Russell Wilson.
It's not surprising that both Brady and Wilson have the most prop bets attached to their names. That's the cache that comes with playing the most important position in the game. You only need to look at Super Bowl XLIX MVP odds to recognize how important Brady and Wilson are.
If you don't have the prices in front of you, here's how it breaks down. Brady and Wilson are the clear favorites to win Super Bowl XLIX MVP honors with both getting 9/4 odds. The two closest on that list? Marconi Lynch at 5/1 odds and Rob Gronkowski at 12/1 odds.
Success in the NFL is still largely dependent on how the quarterback plays and player prop betting on the game suggests as much. In fact, Brady and Wilson have a whole lot of props to their names.
Care to bet on how many completions Brady will have? The number on that is 23.5 with both sides getting 10/11 odds. Wilson's number is a lot lower at 17.5 completions at the same odds. How about we talk about pass attempts? Brady's number is at 36.5 whereas Wilson's number is eight passes lower at 28.5.
The over/under on pass attempts and completions are two unique props to both QBs. But they're not the only ones, either. Both Brady and Wilson also have a prop for passing yards.
The former's number is at 260.5 yards while the latter is a lot lower at 217.5 yards. That's a product of the Patriots playing a more pass-heavy game than the Seahawks.
The two QBs also have a pro for touchdown passes during the game. Both are at 1.5 TD passes, but while Wilson is consistent at 10/11 odds on both the over and the under, Brady's line has the over as an 8/15 favorite whereas the under is a 3/2 underdog.
Let's say you're looking at the other side of things, you know, the props where Wilson's numbers are significantly higher than Bradys. For that, you're going to have to look at their rushing numbers. Wilson, known for his bootlegs and read-option runs, has 44.5 yards to his name whereas Brady's at a pedestrian 5.5 yards. Yup. 5.5 yards for the entire game.
Both QBs also have rushing attempt props to their name and not surprisingly, Wilson's 6.5 attempts is significantly higher than Brady's 3.5 attempts.
So if you're looking at making any prop bets related to Tom Brady and Russell Wilson, these props are the one's getting a lot of attention. Peruse them. Digest them. And hopefully, educated picks follow after that.