According to an Instagram post, Filipino boxing legend Manny Pacquiao was on the receiving end of a $100,000 river bluff by the young cash game specialist Justin "Boosted J" Smith.
There aren't many people who manage to get one over on the Filipino boxing legend Manny Pacquiao (5 in 64 fights to be precise), but that's exactly what happened when poker met boxing in an undisclosed cash game venue.
According to the Instagram account of Justin "Boosted J" Smith, the young cash game expert ran on "one of the most aggressive bluffs" ever in his career when squaring off against the Pac-Man for the very first time.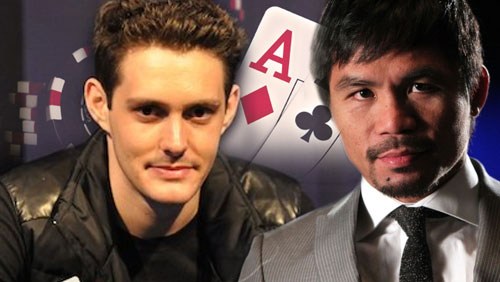 "I bet over $100k on the river, he thought for almost five minutes, and finally showed that he had folded top pair of aces," wrote Smith, who had posted a photo of the pair on his Instagram account, "He started to beg me to show him my hand. I had one of the most nothing possible hands I've ever ended up having, but I had a read on him and decided to go with it."
So did Smith have the balls to show the eight-division world champion the bluff?
"Naturally, I don't usually like to show my hands, and didn't want to rub it in his face that I had outplayed or "fooled" him. So I asked him three times "are you sure you want to see my hand?" and he nodded his head energetically and saying yes. I showed him an absolute stone cold bluff and when his eyes compared my cards to the board to find the correlation that didn't exist, his eyes darted back up to meet my eyes and his fists clenched up."
Fortunately, for Boosted J, Pacquiao saw the funny side and gave the young starlet a big bear hug.
"This man is a legend and one of the biggest inspirations to not only myself, but to many people across the planet," said Smith.
If you are wondering why Pacquiao is such a legend then read on.
On Sunday, the champ joined the likes of Donald Trump and Reality TV star Kristin Cavallari as judges on the Miss Universe contest. With just a few women left in the running it was that iconic time when the luscious ladies have to answer a random question by the judge.
Up stepped Miss USA, Nia Sanchez, to face off against Pacquiao and his question was an absolute peach.
"If you were given 30 seconds to deliver a message to a global terrorist what would you say?"
What!
How is she going to get the words "world" and "peace" into that answer?
"I would just like to say that as Miss USA I can always spread a message of love, hope and peace, and so I would do my very best to spread my message to them and the rest of the world," said Sanchez.
The girl did it.
Unfortunately, her answer was not good enough to win the contest. That award went to the dazzling Miss Colombia Paulina Vega (at this point I am supposed to pull a cracking terrorist joke out of my ass but don't want to end up dead, so I will leave it at that).