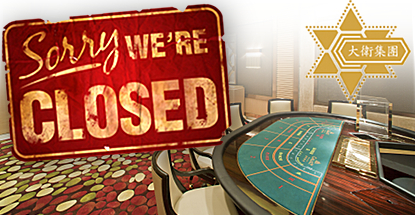 Macau junket operator David Group is reportedly cashing in its chips, underscoring the difficulties facing all facets of gaming operations in the world's largest casino hub.
On Thursday, analysts at Nomura reported that David Group was "in the process of shutting down its VIP rooms in Macau." David Group is considered one of Macau's top-10 junket operators, controlling seven VIP rooms containing 58 gaming tables, which are believed to have handled up to 5% of Macau's total VIP turnover.
Analysts at Daiwa Capital Markets later reported that David Group was planning to close four of its VIP rooms; two each at the Wynn Macau and MGM Macau. The junket also has a presence at Galaxy Macau, Sands China's Four Seasons and the L'Arc, which operates under an SJM Holdings license. David Group has yet to publicly comment on either report.
Nomura's sources reported that David Group had recently waived its requirement for gamblers to make a minimum deposit of HKD 100k (US $13k) to open an account at its VIP rooms. Nomura said David Group planned an "orderly" shutdown "over the next few months" as they seek to collect all outstanding debts.
Nomura suggested David Group's demise might not have too great a negative impact on junket operator liquidity, although the analysts cautioned that they were unclear "whether this is an isolated incident or something more structural."
Macau's seven-months-and-counting gaming revenue decline is primarily the result of high-rollers scaling back their spending, which has weighed heavily on the special administrative region's junket operators. Industry observers have projected Macau could see up to 50 VIP rooms close in 2015.
David Group isn't suffering in isolation. Last week, Hong Kong-listed Imperial Pacific International Holdings Ltd warned the market that its 2014 profit stream from the Hengsheng Group junket operation had failed to meet guarantees. Imperial Pacific, which is developing a casino project on the island of Saipan, holds a 5% stake in profits generated via Hengsheng's junket activities. That stake was supposed to guarantee a minimum of HKD 24m ($3.1m) in 2014 but Hengsheng anted up only HKD 10.7m.
Fortunately for Imperial Pacific, the profit guarantee is secured by convertible notes, so the missing HKD 13.3m will arrive regardless of the Hengsheng Group's struggles. Imperial Pacific is guaranteed another HKD 27.7m in 2015, which Hengsheng will most assuredly have difficulty delivering, given consensus opinion that Macau's fortunes aren't likely to rebound until H2 at the earliest. Hengsheng controls 82 gaming tables across seven Macau VIP rooms.
Comments