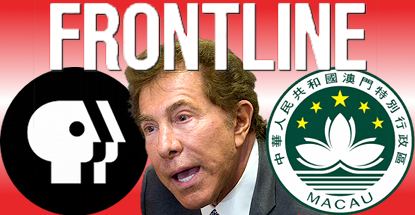 Tuesday was supposed to be the day on which PBS' acclaimed investigative documentary series Frontline was to air its 'Bigger Than Vegas' episode, which focused on the phenomenal growth of Macau's casino industry. The episode, which was to be hosted by Pulitzer- and Emmy-winning New York Times and 60 Minutes journalist Lowell Bergman – the guy Al Pacino played in the tobacco whistleblower movie The Insider – also promised to air the dirty laundry of Macau's junket operators.
But the episode never aired, as Frontline chose to air an updated version of their investigation into the National Football League's ongoing denials re the severity of its player concussion problems. Timely, perhaps, given the NFL's recent string of bad press, but the Macau episode also vanished from PBS' upcoming schedule. So what happened? Frontline's official Twitter account explained that the broadcast had been "delayed until investigation is finished" and that the producers hoped to announce a new airdate soon.
Speaking to GGRAsia on the sidelines of the Global Gaming Expo (G2E) in Las Vegas, Wynn Resorts chairman Steve Wynn said the reason why PBS pulled the episode was because it was "so embarrassing." Wynn, who apparently the opportunity to screen the episode, said the producers had interviewed "an ex-policeman" who made some unsourced claims regarding the volume of side-betting in Macau.
Side-betting occurs when junkets or their agents make certain arrangements with gamblers, either to apply a multiplier to every chip placed on the table so that a $1k bet is actually worth $10k, or the parties agree that every Hong Kong dollar waged will be counted as a US dollar, effectively multiplying the wager by a factor of seven or eight. Such side-betting occurs off the official books and thus isn't included in monthly VIP gaming revenue reports.
Wynn said there was "no proof – nothing" to support the man's estimate of MOP 500b (US $62.5b) in side-betting. "He just said it." Wynn said the man's estimate was "a ridiculous statement" to anyone who really understood Macau's casino business. (As in the ex-cop was underestimating the amount?)
Wynn also claimed that Bergman had interviewed "a guy in jail who couldn't put a sentence together." Wynn said the unidentified jailbird admitted being imprisoned since 1991 or 1992, leading Wynn to question exactly how accurate the man's view of Macau's current situation could be.
CHANOS SLANDER SUIT CAME AFTER PUBLIC DISCUSSION OF FRONTLINE EPISODE
Interestingly, the slander lawsuit Wynn filed last week against short-seller James Chanos had ties to the Frontline episode. The comments that Wynn interpreted as Chanos accusing the company of violating US anti-bribery laws were made at a panel discussion of the Frontline episode at UC Berkeley's Graduate School of Journalism on April 25.
During the discussion, Chanos noted that his decision earlier this year to reduce his investment exposure to Macau casino companies – including Wynn Resorts – was because Chanos "got a little nervous the deeper we dug into Macau." Chanos said he "began to really get concerned with the risk I was taking with clients' money under the Foreign Corrupt Practices Act (FCPA)." Chanos described the casino business in Macau as "legal fraud" and he "couldn't get comfortable" with the idea that there was "an intent to mislead and intent to obfuscate."
A video of the Berkeley panel discussion on Macau, which also includes the New York Times' David Barboza, Vickers & Associates' Steve Vickers and triad expert Raymond 'Shrimp Boy' Chow (who calls in from prison), is viewable here.