Year after year CalvinAyre.com interviews online gambling experts on all sorts of issues, new products, top tips, opinions, innovation and more.  Without the contribution from these interviewees, CalvinAyre.com would not be where it is today.  Its not easy picking ten interviews out of the dozens and dozens of outstanding interviews we conduct each year, but all the individuals below truly added something special into the mix- we hope you enjoy them.
10- Vincent Marti, CEO, Akamon
Vincent Marti is an expert on social gaming, LatAm and Spain.  Its obvious Marti has a vast knowledge on all these subjects and as soon as you hear him speak at a conference or in front of a camera.  In this interview, we discuss the potential of the online gambling market in Brazil and the amount of crossover between real money and social gaming in the country.
9- Jonathan Levin, CEO, Coinometrics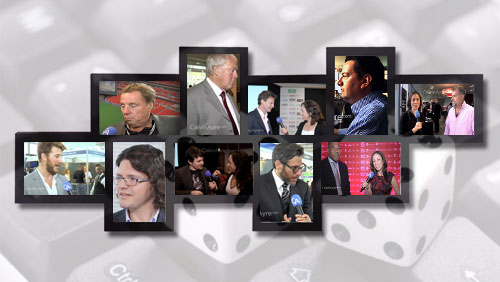 Bitcoin and crypto currency have remained hot topics in our industry for the past year and one of the world's experts on the subject is Jonathan Levin.   In this interview conducted at the iGaming Super Show's Executive Summit, Levin discusses the current status of Bitcoin, his predictions for the currency in the future and the characteristics a crypto currency that are the most important for success.
8- John Barnes, Former English Footballer
As soon as anyone from the UK hears the name John Barnes, the first thing they mention is the John Barnes rap.  Guests of the inaugural BiG Sports Dinner in 2014 received a live performance of Barnes' infamous rap (also featured in this video) and CalvinAyre.com had the opportunity to interview the man himself.  In this interview he shared his thoughts on the performance of England's football team, his thoughts on Liverpool FC and describes his time with Jamaica's national team.
7- Angelo Dalli, CEO, Bit8
Angelo Dalli is one of the great innovators in our space and also has an incredibly impressive background.  As the creator and CEO of Bit8, a gaming platform using artificial intelligence to power an advanced bonusing system, Dalli certainly has his hands full.  In this CalvinAyre.com interview we learn about Bit8 and why online gambling operators love them, we hear stories from Dalli's background and advice for entrepreneurs who wish to innovate.
6- Jez San, Founder, PKR
Jez San is one of those people who you have likely seen around at a conference or two, but may not be aware of his unique background.  San founded PKR but he also disrupted the video game industry by creating the first 3D graphics chip with Nintendo and subsequently earned the first OBE in the industry.  His journey from receiving his first computer at age twelve to stepping back from PKR's day to day management is nothing short of fascinating and inspirational.  This interview with Jez covers it all.
5- Harry Redknapp, QPR Manager
Harry Redknapp is one of England's greatest football legends and is now a brand ambassador for the newly launched 666Bet.  CalvinAyre.com had the pleasure of meeting Redknapp at the iGaming Super Show at 666Bet's booth and in this interview he shares his World Cup predictions, his thoughts football betting and how he became involved with 666Bet.
4- Mark Davies, Managing Director, Camberton Communications
Just about everyone who follows UK sports betting is also a fan of Mark Davies' blog. Davies is one of the originals from Betfair, was instrumental in the sale of the Tote to Betfred and an expert in the UK sports betting industry.  In this interview filmed at the SBC Betting on Football conference Davies discusses the potential impact of new UK laws on football sponsorships, the story behind the Tote sale and a few tips on successful blogging.
3- Marcus Tandler, Partner, Tandler.Doerje.Partner
Marcus Tandler is one of the sharpest and most charismatic SEO experts around.  Tandler is a Tedx speaker and delivered one of the best SEO presentations the industry has ever seen during the LAC 2014.  In this interview captured straight after his LAC presentation, Tandler shares his thoughts on the notion that SEO is dead, tips on link building strategies and other SEO tips and techniques.
2- Sasha Strauss, Managing Director, Innovation Protocol
When it comes to branding experts, Sasha Strauss is your man.  Strauss has twenty years of brand building experience, runs his own full-service brand development firm, teaches on strategic branding and speaks at high profile events around the world.  In this interview captured during the iGaming Super Show Executive Summit, Strauss covers the challenges that the online industry faces when developing a brand strategy and how to make a brand strategy more global.
1- Brian Mattingley, CEO, 888 Holdings PLC
Brian Mattingley is one of the most well respected leaders in the online gambling industry today.  During GiGse 2014 CalvinAyre.com had the opportunity to gather Mattingley's thoughts on issues such as the recreational poker model, the impact of POCT in the UK, the regulated US market, bad actor clauses and the Amaya/PokerStars acquisition.  His answers are clear, direct and thoughtful- a solid choice for the number one CalvinAyre.com interview of the year.