41 individuals, including  Japan coach Javier Aguirre, Manchester United midfielder Ander Herrera, and Atletico Madrid captain Gabi, have been named in a match fixing investigation involving the highly scrutinized La Liga match between Real Zaragoza and Levante from the 2010-2011 season.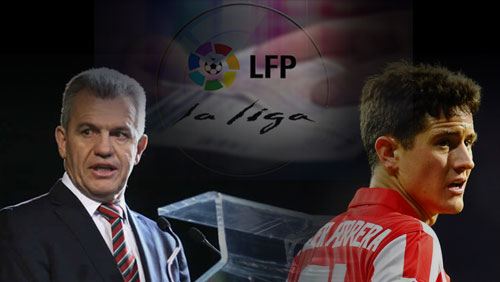 In addition to Aguirre, Herrera, and Gabi, former Zaragoza president Agapito Iglesias was also named in the investigation, as well as the rest of the players from both teams.
The match in question ended with Real Zaragoza winning, 2-1, against Levante, ensuring that the former avoided relegation. It looked like a normal game up front, but an investigation launched in September 2014 unearthed information on the possibility that the match was rigged to ensure that Zaragoza stayed in La Liga and not get relegated to the Segunda Liga.
Court filings published earlier this week include allegations that players from Levante were paid € 965,000 ($1.2 million) in cash to intentionally lose the game. According to the filings, Zaragoza transferred funds to the accounts of its players and officials, including Aguirre, Herrera, and Gabi. From there, the players implicated withdrew the money from their accounts and gave them to the Levante players, ensuring that the fix in the match was in.
Herrera, Aguirre deny involvement, Gabi says he did "what he was told"
Herrera, who moved to Manchester United this summer, has denied any involvement in fixing the Zaragoza-Levante match. The 25-year old midfielder took to his Facebook page to issue a statement. "I have never had and will never have anything to do with manipulating match results," Herrera wrote.
"If I am ever called to testify in any judicial hearing, I'll be happy to attend, as my conscience is totally clear."
Meanwhile, Aguirre, who was the coach of Zaragoza at that time, also professed innocence over the allegations, telling Japan Football Association (JFA) lawyer Yutaka Miyoshi that he was "very angry, and that he has never done such a thing as a professional football coach."
Back in October, Gabi, who is now captain of Atletico Madrid, also spoke out about his involvement in the allegedly fixed match against Levante. In a conversation with a state prosecutor, Gabi reportedly revealed the extent of his involvement, saying, "I did what the club told me to do."
At this point, the investigating judge that is overseeing the case in Valencia will now have to decide on whether to of ahead with the prosecution or just drop it entirely. In the event the investigation continues and those involved are found guilty, the defendants stand to face anywhere between six months to four years in prison. Bans are also expected to be meted down ranging from one to six years, as well as fines that could reach as high as €5.5 million ($6.87 million).