Lee Davy sits down with Michael 'The Grinder' Mizrachi to talk about his role at the bitcoin only poker site GetLuckyPoker.com; his work at the Mizrachi Dealer Academy, filming for Belle's War, and much more.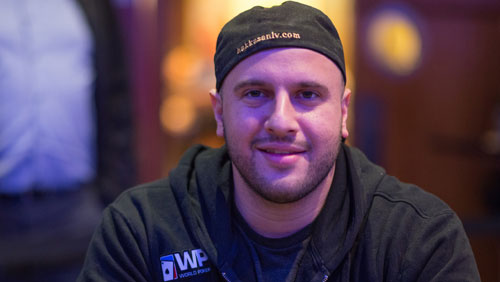 As I watch Michael 'The Grinder' Mizrachi standing on his lonesome I suddenly realize how solitary the poker lifestyle can be. He is standing at the roulette wheel in Dusk till Dawn (DTD) waiting for the action to start. He is in the midst of a cacophony but none of the sounds seem to touch him. He cuts a lonely figure; a million miles away from the blaze of the camera lens that used to hurt his eyes back in the day.
He needs a little company.
He needs a little Davy loving.
How is it going Mike?
"I am a little sick. I guess it's because of the cold weather. I'm used to sunny South Florida and Las Vegas. But you have to get used to this. We travel a lot. We are on a lot of airplane's and it's easy to get sick, but we'll get through it."
I notice you were playing roulette – do you gamble a lot?
"I was only betting $20 per spin for a bit of fun. Sometimes I gamble, but not so much that it hurts. I just do it for fun; to get my mind off things – sometimes it works."
I saw a shot of your work with Twistory Studios, and the WPT, the other day. Tell me more about that.
"We are doing a little filming for Belle's War. It's a new card game; like a war game with a little bit of skill. What a production they are doing over there. It's going to be great. They have a TV show based on it also. The character Belle is played by Danielle Vasinova. She's a beautiful girl and does a great job. Liz Lieu and a few other pros are doing some filming with them. It's pretty good. It's strategic. I won the first episode, so who knows, perhaps I am better at Belle's War than Poker right now?"
What does it feel like to have the make up slapped on?
"It's the same thing for actors and actresses in Hollywood, so you feel somewhat special. It's pretty cool actually. You wanna look good for TV so you have to do what you have to do."
I was watching you on your own. DTD is a million miles away from the bright lights of Las Vegas, where some of your great achievements have come. Do you still love poker, or it is a bit of a grind?
"You're supposed to say you love it, but sometimes it's a grind. That's why they call me The Grinder. It's a lot easier when the millions come, and when you keep winning. But when you start losing – that's when you see if you can overcome the losses. That's what makes you a great poker player. Returning from being under it, and coming back strong and start winning again. I advise people who are not winning to keep their heads up, don't worry; their time will come because poker comes around in streaks."
It's become increasingly difficult to find sponsorship deals these days – have you also found it tough?
"I have decided to make my own luck. I am opening my own online poker site. We will have a few pros on there. It will be called GetLuckyPoker.com and we will be using bitcoins. Hopefully, that works. We will have Badeci, Badugi, Deuce to Seven…as many games as we can get up on there. Hopefully, it will be up before the beginning of January and it's going to be exciting.
"I also have the online poker dealer school for anyone who is looking to have a great job and get into the dealer side of things. It's called Mizrachidealeracademy.com. It's the first online dealer academy so that's pretty cool. I have a few other things in the works, but these are the main two businesses right now."
Who is helping you out with the poker site?
"We have a few guys behind us. The brothers and a few other pros; Luis Velador, Mike Matusow, and a few other guys."
Does getting into the world of cryptocurrency phase you?
"We are all gamblers. We aren't afraid of losing. We all think that bitcoin will rise up. It's new to me, but I will take the risk, and feel like it has a good shot to be a success."
Are you a natural businessman?
"It's tough to run a business, especially if you are a poker player. You need help from other people, and need great advice. I am always open to receiving great advice. Poker players need something else in their life. It helps when you are going through bad streaks. You have to take risks. I have had some good businesses, and some not so good. It's the risk you take."
When was the last time you worried about money?
"I always worry about money. I have an expensive lifestyle, and three children. They are my first priority. So I am always worried about money. When I become a multi-millionaire I won't worry about money, because I will put it to good use."