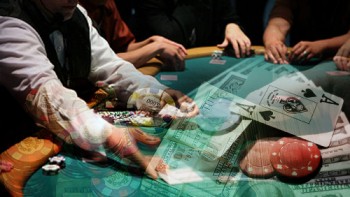 Lee Davy continues his confessions series with reflection on the true value of a game of poker.
It sounds as though my hotel room is sitting on top of a laundry. It's the most annoying sound in the world, and it fits the mood perfectly. Why does my hotel room feel like a prison? Why does it feel like my four walls are closing in on me?
I am in room 750. That means there are a lot of rooms. Each room will feel differently depending on the mood of each person. It's not the amount of empty space you have in your room that matters, it's the amount of empty space you have in your heart.
I got it all wrong.
In my pursuit of personal continuous improvement my philosophy was pretty simple. If the actions that I was taking were not aligned with my life purpose then those actions would be deemed as wasteful. I didn't want waste in my life. It needed to be replaced by value.
So when you play poker for 12-hours, instead of spending 12-hours on your New York Times Bestseller, it's easy to believe that playing poker is waste. It doesn't align with my life purpose.
There was another reason why poker didn't fit into my life.
Money.
I need a bankroll of £2,000 just to get started in my local game – and that's still very high-risk bankroll management. Two bad sessions and I'm out of the game. A Tony Robbins coaching course on Strategic Intervention Coaching – one of my life goals – is also £2,000.
Where does my money go?
It seems a simple choice.
Attending the Tony Robbins course is aligned with my life purpose and therefore of value, whereas playing poker is not, and therefore waste.
But…
Ah, that beautiful but…
I have forgotten about joy.
I have forgotten about community.
When I quit drinking I also quit my community. The people I used to hang around the bar with were no longer in my life. We no longer had the bar in common.
Poker saved my life at that time.
Very few people drank alcohol at the poker table, and I couldn't be around people who drank alcohol – excessively at least.
I immersed myself in the game. The button, cutoff, small blind, and big blind all became my friends. The friendships that I have forged through poker are some of the closest in my life. The game creates bonds of strength.
I am missing those people.
Steve 'The Rock' John, Neil Farm, Terry 'The Run' Welsh, Bobby Eggs, Eddie's Dad Steve, Eddie Ace, Tony 'The Queen' Thorne, Rob the Scot, Winchy, Danny Mac, Gary 'The Sleeper' Acreman, Landi, and Alan the Bookie.
I miss you.
This is why this room feels so empty. This is why the draft makes my heart feel so cold.
I have neglected one of the most important pieces of value in my life. The power of community. It's true that I could create a new one. A community of people who exist in the self-help world, for example, and one day I will do that; but I have no reason to leave the lads from The Ogmore Poker Tour behind.
Investing £2,000 in a game of poker IS as important as investing £2,000 in a Tony Robbins course. It's not about winning or losing money. It's an investment in love, friendship, camaraderie, and joy.
The only reason poker used to make me so miserable is because I made it all about the money. It was the wrong way of thinking. Poker is all about the people. This is why so many online poker rooms are getting it so wrong. They are thinking like I used to. They are seeing dollars, euros, and sterling, instead of hearts.
I feel the change already.
The room feels more spacious. The noise is not as irritating. I feel an airiness in my chest. I feel optimism and hope.
Joy will come.
I know it will.
I just need to get back into the game.
Back amongst my mates.