MGM Resorts International, Wynn Resorts and Penn National Gaming can all breathe a sigh of relief. Massachusetts' expanded gambling law will live on after voters shot down an opportunity to repeal the three-year old law during the recent electorate.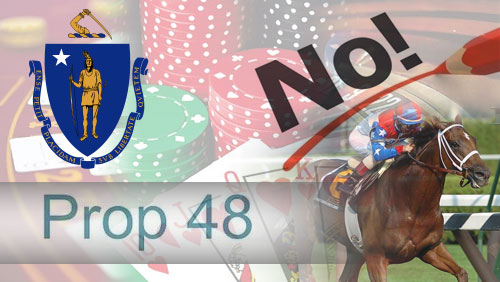 The Associated Press reported that voters decided to keep the potential economic benefits of the casino industry alive despite a strong push from anti-casino supporters who tried rallying residents to see the perceived ill effects of gambling. In the end, their efforts weren't enough to compete against the pro-casino movement, which had the resources of casino companies backing their efforts to keep the casino law intact.
Springfield political consultant Anthony Cignoli told the Boston Globe that casino opponents didn't have the same financial resources as the pro-casino movement. The lack of support cut down the effectiveness of their campaign when lined up against the pro casino campaign that released thousands of TV ads showcasing the economic and employment benefits of putting up casinos in the state.
"They had no major players asking other major players for money, making the case for how there was a possibility to win," Cignoli said.
Instead of targeting the same TV and online audiences that the pro casino movement zeroed on, opponents opted to focus its attention on assembling local opposition groups to help convince communities through phone drives and door-to-door canvassing. That strategy won them a few rounds, but ultimately, it wasn't enough to topple what had become a well-funded pro casino group.
Now that the state's gambling laws will remain intact, MGM Resorts and Wynn Resorts are expected to formally receive their casino licenses from the state's gambling commission, paving the way for both companies to begin development of their projects in Springfield and Everett, respectively.
MGM has already announced its plan to spend $800 million to develop its casino in downtown Springfield whereas Wynn Resorts is expected to begin its development of its own $1.6 billion resort and casino on the Mystic River waterfront in Everett.
Meanwhile, Penn National Gaming has the green light to continue construction of its slot parlor in Plainville after deciding to break ground earlier this year despite the looming threat of the repeal.
Colorado's Amendment 68 falls short, too
Over in Colorado, voters shut down a proposed amendment that would have permitted casinos at horse racing tracks in Arapahoe, Mesa and Pueblo counties.
Over 1.3 million votes were counted and  70% of voters turned in their "no" votes on Amendment 68, leaving supporters of the amendment with little recourse other than conceding to the results of the vote.
"A vigorous campaign was waged on both sides," the "Yes" on 68 campaign said in a statement. "Now Colorado voters have spoken and with their votes have said that they prefer the status quo."
That status quo means that supporters of the amendment won't get to see their proposal to limit gambling at the aforementioned horse racing tracks and to see a percentage of those revenues get sent to a fund to help finance K-12 education in Colorado.
With the 'no' votes effectively overlapping the 'yes' votes, 988,534 to 376,897, voters expressed their shared belief that the amendment isn't so much about helping schools but paving the way for out-of-state casinos to enter the state's market, which could become competition for Colorado's existing casinos.
California voters say 'no' to tribal casino in Fresno
In California, voters rejected its own ballot measure that would have allowed the North Fork Rancheria Band of Mono Indians to build a Las Vegas-style casino in Fresno that the tribe said would have created 4,500 jobs in the area.
Despite that promise, voters still said "no, thanks to Proposition 48", repealing a law passed by the state legislature and Gov. Jerry Brown approving the tribe's attempt to develop a casino on the site that's approximately 40 miles from its reservation.
The casino would have been about 30 miles from Fresno and 25 miles from a casino operated by the Table Mountain Rancheria tribe, leading Table Mountain to accuse North Folk of reservation shopping to build a casino closer to an urban center.
Rick Scott re-elected as Florida governor
Finally, Republican Rick Scott won re-election in Florida after narrowly edging out former governor and Republican-turned Democrat Charlie Crist.
The Associated Press announced Scott as the winner of the state's gubernatorial election after almost all precincts had reported and Scott having a slim 49-47% margin over Cristi.
Scott's victory in Florida should ease the road of land-based casinos to make their way into the Sunshine State. The incumbent governor has previously expressed his willingness to open talks for possible casino expansion in Florida.
However, Scott's re-election could doom the state's chances of opening its borders to online gambling. On numerous times, Scott has voiced his support for Sheldon Adelson's stance for an outright ban on online gambling.
Comments