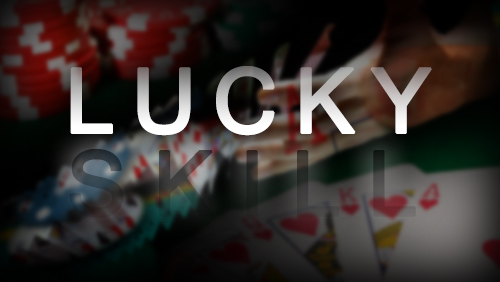 In this week's confessions series, Lee Davy talks about the power of variance, and how it's hounded some of the most talented British players in the game, away from the live tournaments, and into the live cash game scene.
Is Jake Cody a better poker player than John Eames?
Is Max Silver a better poker player than Mathew Frankland?
Is Jack Salter a better poker player than Jamie Sykes?
Six British poker players; half of them you will see regularly on the felts of the most prestigious tournaments in the world, and the other half you won't. And yet I will hazard a guess that the six of them all started out pretty much the same way: they started playing tournament poker as a hobby, and then it turned into a profession.
The arguments over who the better players are is too subjective a debate to hold. We all know that money won is not a metric that we can use to filter players by ability, and the ranking systems at BLUFF, and the Global Poker Index (GPI), will only show you who is the most consistent player, in the game, at that moment – the key phrase being 'in the game'.
Jake Cody, Max Silver, and Jack Salter are in the game. John Eames, Mathew Frankland and Jamie Sykes are not – well, at least, they aren't in the same game, put it that way. So what's happened? Where have these three highly talented players gone, and why?
Eames, Frankland, and Sykes are earning a living playing in the live cash games. I met up with both Frankland and Sykes in their new office – the Palm Beach Club in London. And they aren't the only top quality tournament players who are now earning a living playing live cash games in London.
The blue Nike cap of Praz Bansi is as much a part of British poker's historic paraphernalia as Devilfish's knuckle dusters. The multiple World Series of Poker (WSOP) bracelet winner is one of the truly great live tournament players. Matt Perrins is another multiple WSOP bracelet winner, who can mix it up with the very best in the biz. Both Bansi and Perrins were also playing the live cash games at Palm Beach.
That's why our live tournaments have been lacking this sort of quality. They are all sat down playing cash games. But why? Are they not good enough to play live tournaments? Has the competition got too much for them? Not at all. There is one reason these guys are not playing the biggest tournaments in the world, and you can sum it up in one word.
VARIANCE.
"I was brought up playing poker with some of the best players in the UK. We traveled around, played these tournaments, won a ton of money, and had a great time spending it all," Sykes tells me. "The only problem was we didn't have enough to ride out the variance. We were either spending it too quickly, or getting caught in the usual problems, like horses running away with your money, and things like that. So as soon as we hit a downswing we were in trouble."
With Eames, Frankland, Sykes, Bansi and Perrins, you have a quite a heady mix. You have players who did hit the big time. They rode their luck, and grabbed the bracelets, and then you have a few who were one or two cards away from their big moment. Let's not kid ourselves here. All five of them will admit that they made some mistakes along the way – and I would guess most of these were bankroll management related – but they also got unlucky at times when their peers grabbed it all.
The first time I went to Las Vegas I shared a house with some of Britain's greatest young poker players. The aforementioned Eames, Frankland and Sykes no longer play tournament poker. Dave Nicholson has decided to invest his time and money in the food industry, Daniel Carter is very rarely seen on the live tours, and one of the lads got in such a financial mess that he vanished off the face of the earth. He was one of the nicest guys you would ever meet as well. Of that group, only Stuart Rutter is still playing the tournaments, and that's very selectively. Rutter also understands that his bread and butter is at the cash game tables.
This game is such a conundrum. It turns ordinary working class men and women into heroes, just as easily as it can turn upper middle class men and women into destitute wrecks. I am always being told that poker is a game of skill, and that over the long run, the players with the most skill will win the money.
I don't buy that.
Give me luck over skill any day of the week.
"You get a very magnified version of the American dream with poker. You can win it all in an instant. You become addicted to that feeling of always being in control. Then as you grow older, you realize that you were never in control. You were always at the will of variance." – Jamie Sykes.
Comments