The International Olympic Committee (IOC) and INTERPOL are renewing their efforts to combat match fixing. ICO President Thomas Bach recently hosted INTERPOL Secretary General Ronald Noble at the IOC headquarters in Lausanne, Switzerland, as a follow up to the Memorandum of Understanding the two has signed last January.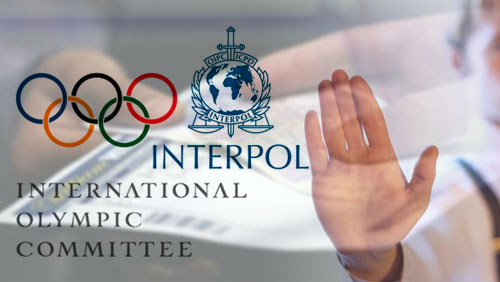 Under the terms of the MoU, INTERPOL and the IOC agreed to work together to identify and address a prevailing number of issues—doping, match fixing, illegal betting and attempted corruption of players and match officials—affecting sports competitions these days. The recent discussion between the two heads focused on learning and understanding how the infrastructure of illegal betting works—learning the risks related to the manipulation of games and matches—and how to conduct investigations and prosecution procedures tied into these cases.
"Our joint action against threats such as illegal and irregular betting will help underpin confidence in fair play by the public and all those who have a stake in keeping sports clean and safe," INTERPOL Secretary General Noble said in a statement.
IOC President Bach, who is celebrating his first year as IOC president, echoed those sentiments by highlighting the increased collaboration with Interpol as an important step to "safeguard the integrity of sports."
"We are very satisfied with the determination being demonstrated by INTERPOL to team up with the IOC in this fight for the clean athletes," the IOC head added. "Together we continue to call on all governments, police authorities and betting regulators to join us."
In the past seven years, INTERPOL has been actively coordinating operations throughout the world to target illegal sports-betting operations. These efforts have resulted in over 8,400 arrests; the closure of around 3,400 illegal gambling dens handling close to $5.7 billion worth of illegal sports bets and the seizure of close to $40 million in cash.