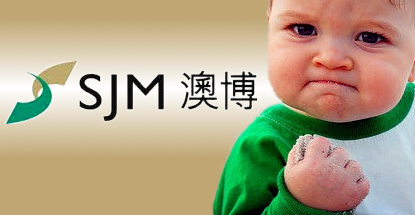 Macau casino operator SJM Holdings may face a repeat of last weekend's labor strife after the company imposed new restrictions on employees taking sick leave. Ieong Man-teng, president of casino worker union Forefront of Macau Gaming (FMG), told the South China Morning Post that a meeting has been scheduled for Wednesday to allow SJM representatives and Macau government officials to attempt to resolve the issue.
By law, Macau employees who have completed their probationary period are entitled to six paid sick days per year. But SJM employees told their FGM reps that the company had instituted a new policy that accepted only certain types of medical certificates to justify paid sick leave. The change appears to be a response to last weekend's job action, which saw around 600 SJM workers simultaneously take sick leave.
Macau casino workers have launched various forms of protests over the past few weeks in a bid to gain higher wages, improved benefits and a better working environment for casino employees. Casinos dealers, in particular, are looking for an increase in their salaries to compensate them for the abuse they often take from the tongues – and occasionally the fists – of gamblers who don't like the cards they were dealt.
Ieong said SJM dealers' current salaries range from MOP 16k to 19k (US $2,000 to $2,400) per month, while FMG is seeking "somewhere around MOP 19k to 21k." The average Macau dealer salary is MOP 17,530. Ieong said SJM staff were prepared to strike if Wednesday's meeting between SJM and the government did not live up to FGM's expectations.
A mass protest in late August targeted all six Macau casino concessionaires while last Saturday's protest singled out SJM for special treatment. Around 1k dealers, pit supervisors and pit managers at SJM's flagship Grand Lisboa property had planned to 'cap the chip floats' and refuse to deal to gamblers but SJM blunted this action by shifting dealers from other SJM properties to the Lisboa and offering up to triple the day's pay for any dealer willing to show up for work.
SJM also attempted to pacify its workers by promising them 'living subsidies' amounting to up to two months extra salary per year until 2020, but FMG has rejected these bonuses as insufficient to meet their overall demands. SJM CEO Ambrose So said the company is still considering wage and benefit adjustments.
Workers at other Macau casinos have reportedly launched their own labor actions. In one case, about 50 Wynn Macau workers signed a letter asking their employer for increased wages and benefits. Chinese-language broadcaster TDM said many of these staff work in Wynn Macau's panty, where they earn just MOP 6k ($750) per month. They're seeking a raise to MOP 2k.