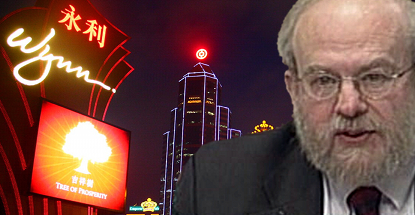 A director of a US trade union has accused Macau gaming regulators and casino operator Wynn Resorts of insufficiently investigating a junket operator's alleged links to triad members. Jeffrey Fiedler (pictured), director of the International Union of Operating Engineers (IUOE), sent a letter to Macau's Gaming Inspection and Coordination Bureau (DICJ) questioning why it allowed Wynn Macau to conduct business with a junket linked to associates of notorious 14k Triad leader Wan Kuok 'Broken Tooth' Koi.
Sharp eyed readers will recognize Fiedler's name from the CasinoLeaks-Macau website, which made similar allegations of impropriety in 2012 against major junket operators like Neptune Group and SunCity as well as the Macau-based operations of US casino companies – including MGM Resorts – with which these junkets did business. Fiedler claimed his motivation was to ensure that Nevada regulators were keeping a proper eye on their licensees' overseas activities, ostensibly so that the IUOE's 1,000 casino workers in Las Vegas wouldn't find themselves out of a job in the unlikely event of a Nevada gaming license suspension.
This time around, Fiedler has set his sights on Pun Chi Man, the listed owner of three DICJ-licensed VIP gaming promoters, one of which did business with Wynn Macau. Fiedler claims Pun had previously established two Macau-based companies with Chan Seng Leong and Si Cheng Wan, two 14k Triad members who later served multi-year prison sentences for triad-related crimes.
While Fiedler admits he has no evidence that these two men were directly involved in Pun's junket operations, he nonetheless wants to know how the compliance departments of both Wynn and the DICJ deemed Pun a "suitable" junket operator. Fiedler noted that Steve Wynn has previously praised the DICJ for their "intensive" screening of junkets.
Fiedler's missive appears to have been timed to disrupt Wynn Macau's annual general meeting on Thursday, but if he was expecting Steve to flinch, Fiedler had another thing coming. Wynn Macau issued a statement calling Fiedler "a bitter, unsuccessful union boss who lost representation of employees in Mr. Wynn's prior company, Mirage Resorts." Wynn noted that the IUOE "have been unable to persuade our Las Vegas employees to support their union" and said Fiedler's "reckless actions … lack any credibility and are unworthy of further response."
Unworthy or not, Wynn responded further by warning Fiedler that while he may have been "able to bully MGM Resorts into surrendering, he will be unable to bully Wynn Resorts. If Mr. Fiedler has the courage to accuse us directly of misconduct, we will respond in court at once."