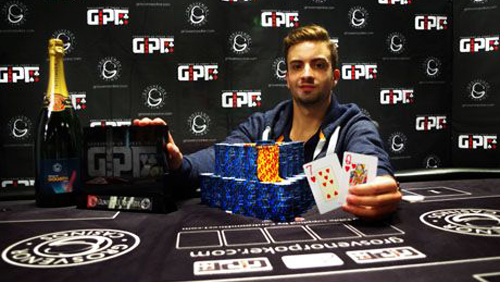 Ryan Foster wins the record breaking Grosvenor United Kingdom Poker Tour (GUKPT) Goliath Main Event; the largest live tournament field ever outside of the USA.
Is poker on a downswing or upswing?
A dedicated journalist would have the answer to that question, but I don't.
What I do know is if you pitch your buy-in at the level the working class can afford, or hold your event in China, then people head to the tables like locusts swarming over the pages of biblical text.
The World Series of Poker (WSOP) Millionaire Maker, and Monster Stack events, drew fields of 7,977 and 7,862 respectively, to show the organizers of the most prestigious series in the world that people do want to play for the right price.
Those fields were record breakers, but there was more to come.
The 2014 Beijing Millions gave the poker community an insight into the type of havoc a Chinese poker boom could create when 2,732 players broke the previous non-US live tournament field size record, previously held by the GUKPT Goliath event when 2,570 players turned up in 2013.
Then just a few hours ago, the GUKPT snatched back that record after 3,394 players ponied up the £120 buy-in, in the GUKPT Goliath Main Event in Coventry, to once again set a new non-US attendance record for a live event.
The winner was Ryan Foster who won £62,120 after defeating Mark Adam in heads-up action. It was only Foster's second live tournament cash of his life, and interestingly the previous cash was also a £100 buy-in event when he won a Bounty tournament at the 2011 GUKPT Summer Series event in Plymouth for just over $1k.
You also have to tip your hat to the runner-up Mark Adam, who qualified for the event for just £2. He turned that puny investment into £40,700 and although he said he was disappointed with the way he played at the final table, once the adrenaline goes down the pan he will be feeling pretty good about himself.
Foster started the heads-up action with a huge chip lead (65.5m v 18.2m) and despite a sterling fight back from Adam, finally ended things when he called an 8bb shove holding [Qh] [7h], and Adam turned over [7s] [6s]. A queen on the flop, followed by a flush draw on the turn made things interesting. But the river bricked to hand Foster a hard earned victory.
"I am very happy…but tired." Foster told the GUKPT after his win, "I ran very well, picked up some nice spots, and I was happy with the way that I played."
Final Table Standings
1st. Ryan Foster – £62,120
2nd. Mark Adam – £40,700
3rd. Neville Price – £27,140
4th. Arjun Ruparel – £18,990
5th. Rodrigo Hernandez – £13,570
6th. Mihaly Jancso – £8,820
7th. Adam Nice – £5,430
8th. Phil Stein – £3,390
9th. Liam Horton – £2,710
The next GUKPT event will be held in Leeds Sep 4 – Sep 7.
Comments