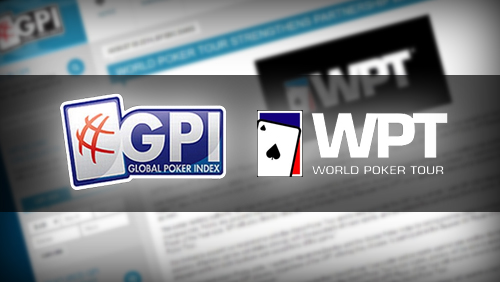 Global Poker Index (GPI) are once again in the headlines after agreeing a deal with the World Poker Tour (WPT) that will see their unique ranking formula used to power the Season XIII WPT Player of the Year (POY) race.
Two down and one to go.
The GPI have followed up on their deal to power the European Poker Tour (EPT) POY rankings, with a deal to do likewise for the WPT, making the World Series of Poker (WSOP) the last remaining bastion not to follow suit.
The GPI ranking formula will be used to power the Season XIII WPT POY race and the WPT President Adam Pliska also revealed plans to include WPT 500, WPT Deepstacks and WPT National & Regional tournaments in the scoring system for the very first time.
The partnership also sees the GPI Fantasy Poker Manager app integrate with WPT.com to give fantasy poker players the ability to engage more deeply with one of the strongest brands in poker. The first time players will be able to take advantage of this stronger unity will be at the end of August, when the first televised event of the new season kicks off at the Iconic Bicycle Casino for the WPT Legends of Poker.
This is not the first time that the two powerhouses have united after agreement was reached for the GPI Rankings to be used to select Shooting Stars at the WPT Bay 101 event and the GPI Fantasy Manager app was declared the official fantasy game of the WPT.
"I acquired the Global Poker Index (GPI) with a leap of faith of changing the poker industry. I had a five-year plan. A lot of people didn't understand this move, neither my vision. The ranking system has purely never been the goal, but one of the tools to achieve a bigger purpose. It is hard and it will be hard. You can never buy time, neither recognition," Dreyfus stated on his Facebook wall after revealing the news.
The WPT Deepstacks event will also run their own POY race using the GPI formula and the winner will receive a buy-in for the season ending WPT World Championships as well as many other perks.
It's been a very busy year for Dreyfus with the creation of the Global Poker Masters, the announcement of the forthcoming American Poker Awards, consolidating leaderboard partnerships with the likes of the Aviation Club de France (ACF), Casino Barcelona and Aria Poker Room; sponsorship of the Canadian Poker Tour, and agreements with the Ivey League and PokerPlayer magazine.
And we are only into the second year of his five-year plan, which begs the question: what's next?
Comments