Lee Davy sits down with Jean-Robert Bellande to talk about his ONE DROP chances, the Broke Living persona, and much more.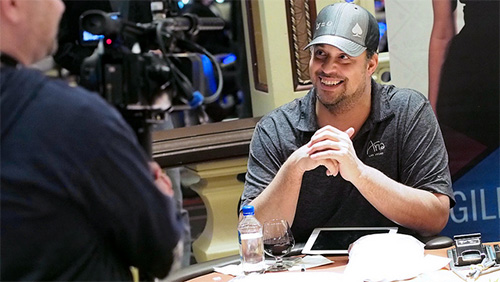 Who do you want to win the ONE-DROP?
For me, you could perm anyone one of these four and I would be happy.
I have a solid professional relationship with Sam Trickett so I would love for him to go one step further this year. I am also good friends with Talal Shakerchi and would like to see him take it down.
On the other side of the water, Vanessa Selbst is my favorite poker player so I have a soft spot for her, and then you have Jean-Robert Bellande, the man who simply cannot win and therefore I want him to win.
Everybody loves an underdog and JRB is able to growl louder than most. He shouldn't be in this event but he is, and this is what makes him such a story.
From Broke Living to $15 million and change?
What a story.
I caught up with him during the first day of action and this is what he had to say.
How has the start been for you?
"I got off to a little bit of a tough start. I have 2m in chips and Tom Hall is running over our table."
I think there are a lot of people rooting for you, how does that make you feel?
"I don't know about that, but I know a lot of people are surprised to see me play the event—and see me as a dog in the event. I think I am one of those guys that other people can see themselves doing the same thing that I am doing so they are kind of rooting for me."
You built up your personal brand through the Broke Living personae, surely that's not the case now you are playing in this?
"Temporarily I have had a few months where things have been going very, very well. But right now I have had a very difficult summer and I am definitely struggling.
"One of the things that people liked about my Twitter account was the fact that I have always been so candid about exactly how much money I have, and how much I win or lose. Unfortunately, I can't be as transparent as I was, because the games I am involved in involve people who wouldn't want their business put out there. I wish I could say everything that's going on for me, but I am telling you that I am hurting and winning this event would be a huge breath of fresh air. It would be hard to claim broke living if I win this."
So who is Jean-Robert Bellande?
"A lot of what you see is who I am. Although, I don't like to be partying all of the time and I don't drink a lot. I am on a huge weight loss bet where I have to lose 50 pounds in five months and so I haven't had a sip of alcohol in a month actually so while I am losing weight I'm not drinking at all."
Who is the bet with?
"It's a $50K bet with Bobby Baldwin that I have to weigh below 245 pounds by Nov 1st."
And are you going to win?
"Yes I am, I have already lost 10 pounds and we have only gone one month and I'm not crash dieting or anything, so we'll get there."