Lee Davy sits down with Poker Hall of Famer, Mike Sexton, to talk about the upcoming WPT500 event at the Aria Resort and Casino.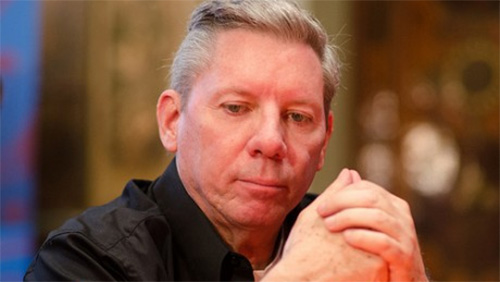 I'm buzzing around looking for Stuart Rutter when I see Mike Sexton walking down the Rio hallway. He is suited and booted and is sucking a smoothie through a straw.
He is the boss.
Sexton is poker.
His dulcet tones are the reason that I fell in love with poker in the first place; so to spend time with him during my time with the World Poker Tour (WPT) is still a little surreal, even if he still doesn't know who the hell I am.
"Today I am playing the 8-Game Mix so that should be fun," said Sexton between sips. "I have played six events so far, min-cashed once, so I am a loser, but still some time left."
Sexton is not the only member of the WPT team to be trying his luck at the tables after Matt Savage came mightily close to cashing in the $10,000 Seven Card Stud Hi-Lo Championships last week.
"He played really well. I felt bad for him; he went out on the bubble and it hurts a lot more to go out on the bubble of a $10K than it does for a $1.5k I can tell ya. I felt his pain."
It won't be long before Sexton is back behind the desk as the WPT's latest endeavor, the WPT500, kicks off at the Aria Resort and Casino. So what does the great man think of the new format?
"I think it's going to be a great event. It's a $500 buy-in plus $65 juice. There will be a guaranteed $1m prize pool, with a minimum of $200K reserved for the winner. But the beauty of this event is there are five starting days, so you'll have the 4th, 5th, 6th, 7th, 8th to choose to play with the final on July 9th.
"You could even come in and play a turbo super satellite on the morning of the 9th and if you qualify play the final later on that day. The top 5 percent each day advance to the finals on July 9th. To win a tournament like that at the WSOP you would have to play 3 or 4 days but at the WPT500 you are only playing for two days. It's great value, and a great opportunity, where you don't have to put a whole lot of time in to win a big prize.
"We have never had a $500 buy-in on the WPT before. Our lowest buy-in has been $3,500 so we're trying this to see how it goes and so far we have had a great response and a lot of people are going to be there."
PartyPoker sponsor the WPT500 and it takes place at the Aria Resort & Casino Jul 4–9, with a $565 buy-in and a $1 million guaranteed prize pool.