Lee Davy sits down with Seth Palansky to talk about the recent additions to the ONE DROP; the logistics of operating such an event; his views on the 56-player cap, Rocky stories and much more.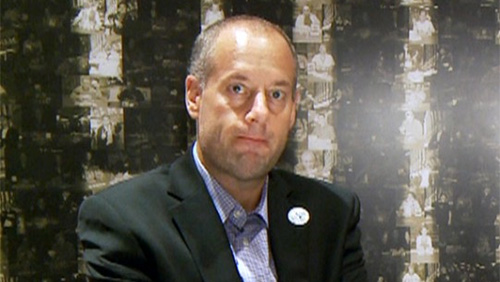 Do you know anybody who is willing to part with a million dollars to play in a poker tournament?
The World Series of Poker (WSOP) have just found another 11 players of that ilk, after announcing that there are only 15-seats available for the BIG ONE for ONE DROP due to take place on June 29th.
I sat down with the Vice President, Corporate Communications, Caesars Interactive Entertainment/WSOP, Seth Palansky, to talk about the latest additions and his thoughts on the event in general.
"41 players have confirmed, and another 6-10 are in the flux of processing, so it's looking really great. The event is getting close, people are getting their money in and we're ready to go." Said Palansky.
The latest names to join the roster are Daniel 'Jungleman' Cates, Daniel Colman, Isaac Haxton, Greg Merson, Daniel Negreanu, Doug 'WCGRider' Polk, Scott Seiver and businessmen Talal Shakerchi, John Morgan, Tom Hall and an anonymous businessman who plays in the high stakes games in Macau.
Two names that I expected to be included in the announcement, but aren't, are Byron Kaverman and Timothy Adams. Both players have both expressed an interest to play in the event in the past.
I asked Palansky if the team ever worried that they wouldn't make their 56-player cap?
"It's always a distinct possibility. A million dollars is no chump change for anyone. When we came up with this event, which was not my idea, I didn't think we would fill one table. I thought a cap of 48 was crazy and we even put in the caveat that we needed to get to 22 so it would be an official bracelet event, akin to Doyle Brunson winning the Main Event in 76 with that number of players. So there were all of these things that we weren't even sure we would get to.
"The reality is, we should hit the 56-player cap. We feel very good based on the intel we have gathered so far. Regardless, we will raise $5-6m for charity, someone will walk away with an eight figure score and ESPN will televise it for three consecutive weeks – it's great for poker."
He's right, a million dollars is no chump change. Something that was hammered home to me a few weeks ago when I asked Jonathan Duhamel if he was playing and he just looked at me and said, "It's a million dollars."
"That's part of the reason the cap exists. We don't want people to play it who can't afford to play it, or risk too much of their bankroll. This is about getting philanthropists, businessmen and the guys with the means in the poker community to do this. We want the money to stay in the poker community, or the charitable organizations. We have put on $100k; $50k and $25k buy in events, so there are plenty of events for people to play, at many different stakes. This is not made as an event for people to find any necessary way to get into to."
The charitable aspect to this contest is so important, especially given the bad publicity that poker often gets. It also seems to have been the springboard for more charitable interest, especially with Philipp Gruissem, Igor Kurganov and Liv Boeree created the poker players charity REG.
"Philipp Gruissem and his guys – that's a great story. Go and talk to Antonio Esfandiari, Phil Laak or Jeff Gross. They went down to El Salvador and saw at first hand what this money does. Guy Laliberte funds the charities operations with his own personal money, and any money that gets raised thorough One Drop goes directly towards funding projects, so we know it's doing good. Poker is a great avenue to host charitable events. Sometimes, this gets overlooked because a guy walks away with $18-20m, playing poker, but each of these players are giving $111k to the charity so it's great from that standpoint."
The great story for me is the inclusion of Jean-Robert Bellande. It's what poker is all about.
The Rocky story.
Everybody loves a good Rocky story.
"I love those kind of stories too. Those are the best. You want to see people overcome the odds and make a story. One of my favorite stories, in my tenure here, is Darvin Moon. The logger from Maryland who had never been in an airplane in his life. He won the seat, had no intention of playing it, then he decided to get on the plane, come out and try and sell the seat because he didn't want to be in Vegas; his wife convinced him to give it a try; on Day Six he was willing to quit because all of the attention – he wanted to go back to the woods and cut down some trees – but he stuck it out, knocked out Phil Ivey and made $5m – it was wonderful."
So, imagine if Darvin Moon had won it and also won a seat to the BIG ONE for ONE DROP – what a story that would have been?
"We did a partnership with the New York Rangers, and New York Nicks, at Madison Square Garden. We tried to do a half court shot, or a hockey puck shot. We tried to do it, but couldn't get around all of the regulations to make it happen, but that was the goal – to give away a million dollar seat if someone could do it.
"We are doing a satellite where the first price point is $200. So someone could conceivably go from $200 to $20m, or $1 to $10m in the Main Event. We are trying these things and hopefully one of them would come through."
It doesn't feel right to have the BIG ONE for ONE DROP without Phil Hellmuth in the field. Does Palansky think Hellmuth will play?
"I don't. He picks his spots. I know he has recently expressed an interest on Twitter, because he is playing well, but he's not a sponsored pro, and a million dollars isn't chump change. It doesn't matter how successful he has been, he has to pick his spots.
"The Bellagio is running a satellite and we are doing one. We almost had two satellites in 2012 so it's likely we may hold a few this year. Hard to know. We have 6-10 more players very close to being done, a whole contingent of businessman. There will be very few seats up for grabs, and when they are gone they are gone, if they leave it too late it will be too late."
Is there anybody that Palansky would like to see in the field?
"I tell you who my favorite is, who is playing, and that's Vanessa Selbst. She is the only female in the event; she does very well, especially in the high stakes events. She hasn't played in this event before so she will be very focused. She is very giving of her time, and gives to charities and great causes, so if she wins it would be a great story."
Just how stressful is it for Palansky to be involved in the organization of a million dollar buy-in?
"It's funny. You would think with 56-players, as opposed to 7,977 for the Millionaire Maker, it wouldn't be such a big deal, but there is so much more meetings, discussions, planning and phone calls over this one.
"This is a unique event, for unique clientele. The businessmen in particular – a lot of them are philanthropists and you have to give them a good experience. We are paying 16-20% of the field, more than your average tournament, but the for the other 80% they are going to be giving a million dollars and getting nothing back except a charitable contribution, so you want to make sure they feel like they have been treated right, and feel like they had a good time and enjoyed themselves."
The BIG ONE for ONE DROP kicks off on June 29th and a full line up of players can be found here.