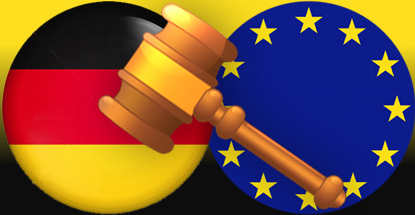 German-facing online gambling operators were dealt a blow on Thursday as the European Court of Justice (CJEU) ruled that the more liberal online gambling licenses issued in the northern state of Schleswig-Holstein didn't extend to the rest of the country. The CJEU ruled that it was possible for a country to host two separate licensing regimes provided the more restrictive regime didn't contravene European Union edicts against the restriction of services.
In July 2012, Germany instituted a federal gaming treaty that restricted online gambling to sports betting only, while Schleswig-Holstein passed legislation allowing online casino and poker as well. A new government in Schleswig-Holstein has since repealed their treaty and signed on with the federal program, but not before the old government issued multiple online gambling licenses. Meanwhile, Germany has yet to issue a single federal online sports betting license, despite having begun the tender process nearly two years ago.
The case originated when a German court ordered Gibraltar-licensed Digibet.com to stop offering services to German gamblers. Digitbet challenged the order at the German Federal Court, which ultimately asked the CJEU to weigh in on whether Schleswig-Holstein's licensing regime held sway in other German states.
On Thursday, the CJEU ruled that Schleswig-Holstein's temporary adoption of a more liberal licensing regime didn't require the other states to gut their own legislation. The CJEU went on to say that Germany's federal gaming treaty did constitute a restriction on the free movement of services but this restriction may fall within the exception granted to legislation intended to achieve certain public interest objectives. The CJEU left it up to the German Federal Court to decide whether the federal treaty satisfies all the conditions of proportionality in achieving the stated public interest objectives. A ruling in that venue isn't expected until next year.
The European Gaming & Betting Association (EGBA) issued a statement pointing out that the two-year grace period the EU gave Germany's federal treaty is set to expire on July 1. Given Germany's failure to issue a single sports betting license, "the Treaty's lack of viability and Germany's failure to achieve its own goals are evident." EGBA Secretary General Maarten Haijer called on the European Commission "to open an infringement case for failure to comply with EU law."
Comments