Lee Davy sits down with Ivey League member, Aaron Jones, to talk about his recent cash in the $25k Mixed-Max event, online training sites and much more.
As a poker writer, I never felt comfortable talking to the likes of Aaron Jones. It's not that he's not a nice young man—he is—it's just the simple fact that to talk to him, you realize how little you actually know about the game you are being paid to write about.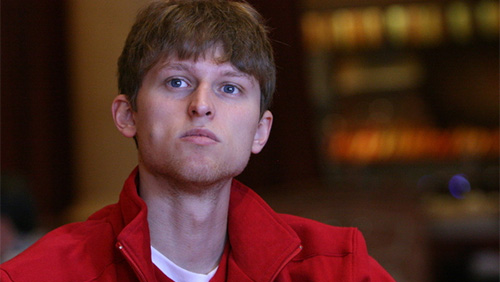 He makes me feel about as effective as a limp dick in an orgy.
But, hey-ho, you can't dodge the brilliant minds of the poker industry; and as the years go by, there seems to be more and more of them popping up out of the bedroom.
Seeing both Aaron Jones and Ryan Fee, cashing in the recent $25,000 Mixed-Max Event turned back the clock for me. At the time I strolled into the poker world, Jones was creating great training videos for LeggoPoker, and Fee's Six Max Training Guide was like a bible to me.
So was Jones's eighth place finish to be viewed as a disappointment or a success?
"I guess it's always disappointing because so much equity is made up of how you run in spots when there are a single digit number of players left in a tournament. So you may only have a couple of dozen situations like that in your whole career. So that's always disappointing. But I hit a few random pay jumps, and I was never really above average, so I can't complain too much starting off the WSOP with a four and half-x buy-in cash."
The recent acquisition of LeggoPoker—by IveyPoker—must have Jones quite busy, as they try to keep up with the Joneses (pardon the pun) over at Phil Galfond's much-respected site RunItOnce.
"The whole thing keeps me balanced. I travel a little bit to play on PokerStars and Full Tilt. Then I am always doing the IveyLeague stuff and constantly teaching people through my videos, and making time for the World Series. So it's busy, but it keeps me balanced and makes me happy."
I love poker, don't get me wrong, but sometimes sitting down at a table for hours on end can really get to me. It makes me question my role in the world, and whether I should be spending my time doing something else. I often wonder if this same tedious thought process affects people like Jones?
"For a while, I was making a lot of videos a month and was playing less—I think around 2012. So I started to make a lot less videos. Then I went down from two to three videos per month to just one. I am playing a little more often now so I am making more. So I have gone from playing less, and feeling a little less qualified to make a high volume of content—two to three years ago—to now playing a little bit more and making say two videos a month. It's really easy for me to share my thoughts. It's not very hard to open up some tables and share my thinking."
The IveyLeague and RunItOnce are the Rocky and Clubber Lang of online poker training sites. Just how competitive is the market these days?
"It's really competitive. A lot of sites saw a hit after Black Friday and some have popped up since then. It's a different class now because IveyLeague and RunItOnce are the only two sites that are charging twice as much as previous sites were.
"Previously the industry standard was  $30, and that's what Leggo always was. I wish that had been set two to three times higher. Had CardRunners done that years ago there would have been no doubt that everyone else would have followed.
"It is certainly worth 10-times that. There are high stakes players who continue to grind high stakes training videos. And there are always so many people coming up to me to thank me and tell me that our videos have helped improve their game."
I stopped watching online training videos when I stopped playing seriously. I am not sure if my complaint – back then – is still viable today. There was only so many Phil Galfond videos that I could watch. I needed more. Different forms of training. Innovation. A unique selling point. How difficult is it to create these things?
"The challenge with NLHE is so much is standard these days. So there are a couple of challenges. Firstly, are you playing in a unique style that is a winning style, and can you explain why your style is winning and what's different about it? Secondly, are you able to explain those standard spots in away that no one has explained previously, or better still, can you explain them in a better way where you may make the extra 10% of people really click on such a basic point?"
From a background in the rail industry to a job in poker. One thing that always strikes me is a lack of measures when it comes to success criteria. Does Jones understand what his market actually is?
"Well I certainly think for a lot of pros it's a prerequisite. It's like, 'have you seen the latest Phil Ivey video?' And if you haven't you may be behind in the latest game he is making it in. Or have you seen the latest Sauce video Cole South's PLO video or my video? If you haven't there might have been a great new play that is different and it may set you back?
"Our challenge in the IveyLeague is to bring players in from the recreational level. So instead of 1-2 steps, as previous training sites have had, we are going to push it out to 3-10 steps or something like that."
Moving on from the marketing question I recently read a great article in The Times about a new book called The Confidence Code written by two female journalists Katty Kay and Claire Shipman.
In the book, the authors wax lyrical about the progress that female's have made in business circles but question why they still struggle to get into the top executive spots on a regular basis?
Amongst the many reasons cited are a lack of aggression, the need for things to be more perfectly laid out than for men and a lack of risk taking. I ask Jones if these sorts of things are thought about at the IveyLeague, and whether we will see content made to help improve the game of female poker players in these areas?
"From my point of view I have never heard of the article or book that you refer to, but it does make sense to me. We are still finding out what our market is. What type of players we have, what countries they play in and also what the market looks like for our female members. It may be anywhere between 3—15 percent of our traffic, but we don't really know."
Something tells me it won't be long before he finds out.