Running it Once With Phil Galfond Audio
Back in the day when I was searching for an online poker training site there were many to choose from. The reason that I chose
BluefirePoker
was because Phil Galfond represented it. I assumed that if I wanted to become a better online cash game player then I could do much worse than learn from one of the best components of that format in the world.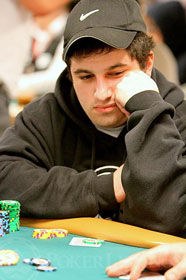 Ultimately, I learned more from Galfond off the table than I did on it. He is a boy with a man's mind. He talks with a depth and assurance of someone ten-years his senior. As a BluefirePoker member, Galfond always had time for you, always answered every question posed and spent time on the forums. He made the 'us' and 'them' feelings vanish. He made you an equal. When Galfond left BluefirePoker to set up Run it Once I left too. Something tells me I wasn't the only one.
At the time of writing he is the chip leader, with just seven players remaining, in Event #52: $25,000 No-Limit Hold'em (NLHE). He is fast closing in on his second World Series of Poker (WSOP) bracelet. When you consider that his sightings at the WSOP are as rare as a cool, calm and collected Phil Hellmuth; it would be a great feat.
"I came out before the $10k heads-up and I've been sick for a week otherwise I would have played much more. This is my 6th or 7th event and I have been enjoying it; but my decision was made all the more easier as the cash games have been such a hassle the past few years." Said Galfond.
Running under the moniker of OMGClayAiken and MrSweets Galfond rose like the Phoenix from the flames to become one of the greatest online cash game players of all time, with only Phil Ivey and Patrik Antonius ever earning more than the $9m profit he has attained. But Galfond isn't just a great player, he's one hell of a coach and a wonderful human being.
"I have always had an interest in talking about poker with friends. When I started writing articles for BLUFF magazine I realized that I had something to say, and to offer. I take a lot of pride in teaching and the respect I get from the community. Hearing stories from people that I have helped out is really enjoyable." Said Galfond.
Galfond has always spoken with an openness and candidness, especially on his own personal blog. It gives people a peek, not only into his poker, but also into his personal life. You get to see the way he ticks. With Phil Galfond there are lessons to be learned everywhere you look. But it wasn't always natural for Galfond. A naturally shy person, he had his own obstacles to climb over before he felt totally at ease with life in the spotlight.
"Teaching…it's fun to do something that you feel confident in, I get a lot of feedback and I take a lot of pride in it.
"Writing articles was easy, but starting to make videos was a challenge. I probably made four or five before I made one that I kept before eventually releasing it. I am very comfortable now. As times go on and I do more interviews and have played some poker on TV the shyness dwindles."
Galfond's latest baby is his training site Run it Once, and there is a podium here at the Rio especially for information pertaining to the site. A podium that Galfond stood and delivered a Q&A session for over 90-minutes in between battering opponents at the poker table. But what is his vision for Run it Once?
"The primary goal is to become the authority on poker training both in videos and strategy. Strategy posting has died down since seven years ago when I was coming through so I'm excited that we have some good strategy discussions on our site."
And what does Galfond believe is the pre-requisite of being a great coach? How do you get through that interview process to join the likes of Steve Gross, Hac Dang, Jason Koon and Sam Grafton as coaches on the site?
"Personally, the number one thing for me is to be able to explain their thoughts well whilst teaching something. My business partner Dan doesn't want me to hire someone without results too, although it isn't a necessity for me, but he's kept me in line with the fact that we hire winners as well."
I guess it's just like looking in the mirror.
Comments