WSOP Day 4 recap sees Vanessa Selbst wins her third World Series of Poker (WSOP) bracelet, after victory in the $25K Mixed Max Event, and Brandon Shack-Harris wins his first in the $1K Pot-Limit Omaha (PLO).
Vanessa Selbst proves once again that she is one of the very best components of this art, by winning her third WSOP bracelet, after overcoming a 5:1 chip deficit against Jason Mo.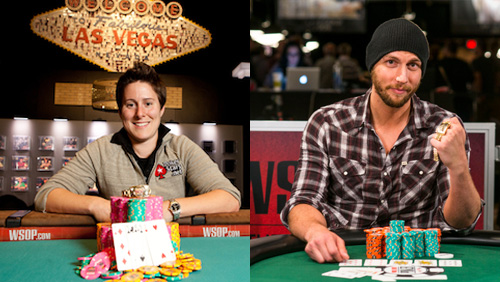 Her come back was reminiscent of the amazing 7:1 claw back that she pulled off in her semi-final, against the inexperienced Al Decaloris, to book her berth in the final.
Her victory means Selbst now ties with Barbara Enright as the two females with the most WSOP bracelets; an honor that will almost certainly be solely Selbst's if she continues to go about her business like she has in the past few years.
Two hands turned Selbst from a potential loser into a world-beater.
In Hand #57 Selbst limped on the button, holding [Js] [Ts], Mo moved all-in for 1.875m—and [6d] [3d]—and Selbst made the call. The flop of [Jd] [Td] [8s] had everything, but the [4h] and [8h] bricked for Mo and Selbst was right back in contention.
Then in hand #63 Selbst took control.
The multiple-WSOP-bracelet holder opened the action with a 250,000 bet, before calling a 750,000 raise by Mo. The flop was [Jd] [Th] [5s], Mo checked, Selbst bet 580,000 and Mo called. The turn was the [Qh] Mo checked again, Selbst also checked. Then the final card was the [2s]; Mo led for 1.315m and Selbst called. Mo showed [As] [Qs] for top pair, but Selbst turned over a pair of queens for a set.
The final hand of the event saw Mo moving all-in with [9d] [7d], Selbst called with [Kh] [Jc], and a [As] [Tc] [2c] [Ad] [Js] run down handed Selbst the victory, and Mo his second runner-up finish in the past few years.
Final Table Standings
1. Vanessa Selbst – $871,148
2. Jason Mo – $538,308
3. Al Decarolis – $290,622
3. JC Tran – $290,622
5. Matt Giannetti – $171,461
6. Robert Tepper – $171,461
7. Ryan Fee – $112,752
8. Aaron Jones – $112,752
Event #3: $1K Pot-Limit Omaha (PLO)
I was fully expecting to be waxing lyrical over the talents of Steve Billirakis today, but the two-time bracelet winner failed to turn his over night chip lead into a Vanessa Selbst style third bracelet, after finishing a disappointing fourth.
The winner was Brandon Shack-Harris, who recorded his fifth all-time WSOP cash, and his most significant to date, when he captured the $205,634 first prize.
Shack-Harris was a touch fortunate in the final hand of the contest, but hey man, this is poker.
He got it in with [Ac] [Kc] [Kh] [5s] v the [Ah] [Ad] [Th] [5c] of Morgan Popham, and the board ran out [Qh] [8d] [6d] [Ad] [Tc] to turn the inferior hand into a winning straight.
Final Table Standings
1. Brandon Shack-Harris – $205,634
2. Morgan Popham – $127,245
3. Lori Yogo – $79,611
4. Steve Billirakis – $57,785
5. Matthew Ryan – $42,658
6. Robert Paddock – $31,978
7. Patrick Arena – $24,324
8. Loren Klein – $18,750
9. Nick Guagenti – $14,649