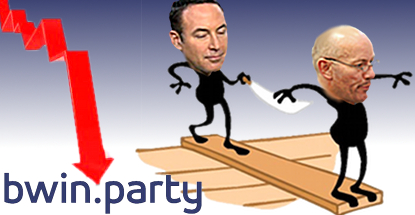 Activist investor Jason Ader (pictured, sword in hand) has drawn first blood in his fight to bring changes to struggling UK-listed online gambling operator Bwin.party digital entertainment. On Friday, Bwin.party announced the imminent departure of three of its board members following an independent evaluation process conducted by new chairman Philip Yea. The board shakeup is widely perceived as a bid to fend off Ader's push for shareholders to approve even more extensive executive shuffling ahead of the company's annual general meeting in Gibraltar next Thursday (22).
Board member Manfred Bodner (pictured on the far end of the plank), a co-founder of the Bwin half of Bwin.party, will be stepping down following the AGM but will remain as a paid consultant to provide "advice at key times in connection with strategy, brand management and digital marketing." Deputy chairman Rod Perry will leave once a successor can be found. Audit & Risk Committee chairman Helmut Kem will step down after the 2015 AGM. Executive search firm Spencer Stuart has been tasked with conducting "an international search" for suitable replacements.
Bwin.party said that while the evaluation of its board had returned "no material adverse findings," the changes were necessary due to "the increasing complexity of the group's business and regulatory environment." Ader, who acquired a 5.25% stake in Bwin.party earlier this year via investment vehicle SpringOwl, had sought to install four new board members who had what Ader viewed as the necessary digital and commercial expertise to cure Bwin.party's apparent inability to grow its business.
Ader told Reuters that Friday's announcement was the "direct consequence of the overwhelming support" Bwin.party shareholders had shown for SpringOwl's push for change. Ader subsequently revised his demands by asking shareholders to back just two of his four nominees – Reputation.com CEO Michael Fertik and technology venture capitalist Kal Patel.
But Bwin.party insisted that SpringOwl had already blown its chance to play kingmaker and reiterated its call for shareholders to reject Ader's input. According to :Yea, Friday's announcement represented Bwin.party's desire for a "board that works, rather than having one foisted upon us."
Ader's case for change at Bwin.party centers around the "value destruction" that has occurred since Bwin and PartyGaming announced their intention to merge in 2010. Ader believes Bwin.party (a) lacks a coherent strategy to grow its business and (b) present management has no motivation to amend its behavior while they're being awarded lucrative bonuses for maintaining the status quo. Bodner was one of three top Bwin.party execs that received controversial bonuses earlier this year despite shareholders seeing their value decline 60% since the merger. Bwin.party shares have fallen a further 10.5% this week, closing out Friday's trading at 114.8p, not far off February's year-to-date low of 110p.