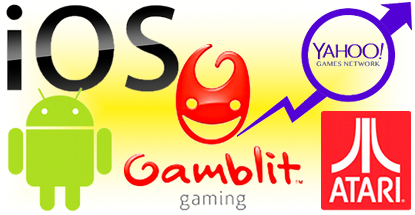 App market analysts Distimo issued the first installment of a three-part report on the social casino app market last week which showed all the top social casino publishers making more revenue from the Apple App Store than from Google Play. The closest to an even split came from Willliams Interactive and Buffalo Studios, which each earned 57% of revenue from iOS apps compared to 43% from Android. Apple earned even bigger shares for Playtika (68%), BitRhymes (69%), DoubleDown Interactive (75%) and Zynga (75%), while the App Store accounted for a whopping 84% of Big Fish Games' revenue.
Android devices significantly outpace iOS devices in terms of global sales, but a recent Business Insider article explained why developers tend to put more time and energy into developing products for Apple users. Simply put, Apple users spend more money online than their Android-favoring counterparts. Mobile research firm Monetate's data from Q4 2013 show Apple's iPad accounted for 87% of visits to e-commerce sites by tablet users, versus just 11% for Android-powered tablets. The average order of those iPad users was $155 compared to $110 for Android. Data from last year's winter holiday shopping period compiled by IBM showed iOS users spending $93.94 per order versus $48.10 for Android users.
YOU WON'T NEED QUARTERS TO PLAY ATARI CASINO
Distimo reported that social casino apps accounted for about 20% of the top earners in both the App Store and Google Play, a sufficiently lucrative stat to attract the attentions of arcade and video game pioneers Atari. Last week, Atari announced it had teamed with virtual world games specialist FlowPlay to develop Atari Casino. The product is expected to launch this fall on a standalone site, as well as on Facebook and iOS and Android devices. In addition to traditional casino games, Atari will also offer new versions of its classic game titles, including Missile Command, Asteroids and Centipede.
YAHOO WANTS SOCIAL CASINO'S POOR, TIRED AND HUDDLED MASSES OF DEVELOPERS
Not to be outdone, internet giant Yahoo announced the launch of its own social gaming network. The Yahoo Games Network will feature its own Bingo, Poker and Pool titles as well as serving as a platform for third-party developers seeking broader distribution for their products. Yahoo Games GM Jesper Jenson said the company was already working with developers such as Playtika, FlowPlay and Namco Bandai America and welcomed anyone else interested in exposing their wares to Yahoo's 800m-strong user audience.
GAMBLIT DOESN'T WANT YOUR STINKING SLOT MACHINES
Meanwhile, Glendale, California-based Gamblit Gaming recently raised $12m from private equity firm American Capital to fund its dreams of bridging the gap between gaming and gambling. Gamblit, whose CEO Eric Meyerhofer formerly held the reins at casino gaming printer outfit FutureLogic, wants to help game developers offer real-money gambling in regulated markets. Gamblit has its own game studio in addition to its gaming platform and is prepared to handle technology, operations, licensing and regulation for developers.
Gamblit's ambitions sound a lot like those of Betable, which offers social casino developers a bolt-on backend to handle real-money activity. But Gamblit CMO David Chang told VentureBeat his company wasn't interested in simply adding a real-money component to social casino games. Chang wants to encourage developers to "create brand new gambling games that look a lot more like the games we grew up on. We think that will be attractive to a whole new segment in the market." In that sense, Gamblit's ambitions aren't that different from Betable's, whose CEO Chris Griffin has long lamented the lack of innovation in the online gambling business.