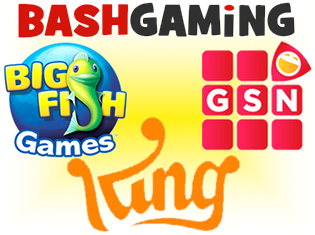 Real-money skill gaming operator GSN Games has agreed to acquire Bash Gaming, the California developers behind hit social casino title Bingo Bash. GSN declined to disclose how much it splashed out on the acquisition but Eilers Research estimated the deal to be worth between $160m to $170m. The sector-leading Bingo Bash boasts 4.4m monthly active users across Facebook and mobile platforms. Bash Gaming, which began life in 2010 as BitRhymes, released its second title Slots Bash on iPad last year.
The deal is expected to close by mid-March, around the time the two companies were supposed to face off in court. GSN nearly sealed this deal last year but Bash dropped out at the last second, claiming another bidder had entered the picture. That premature withdrawal prompted GSN to sue Bash but the two companies were able to resolve the issue on an amicable basis. The rough plan is to integrate Bingo Bash into GSN Casino and GSN exec VP Jeff Karp told re|code the deal would double GSN's daily active users and boost monthly actives close to 10m. GSN is a subsidiary of the Game Show Network.
BIG FISH CRAPS OUT
Seattle-based social games developer Big Fish Games may have given up on its real-money gambling operations in the UK, but the company has broadened its Big Fish Casino offering via the introduction of Big Fish Craps. The craps product is available via Facebook or iOS/Android mobile and features real-time synchronous social functionality in what Big Fish VP/GM Carey DiJulio called "one of the most social games in the casino." Players seeking a little extra luck can blow on the virtual dice, which get hotter if the player goes on a roll, eventually bursting into blue flames if the player rolls 16 times without crapping out.
KING FILES IPO PAPERWORK
UK social gamers King aren't backing off their pursuit of a trademark on 'candy' in the United States. The makers of the popular Candy Crush Saga raised hackles earlier this year after securing trademarks on the words 'candy' and 'saga' then aggressively pursuing other gaming apps it claimed were horning in on its moneymaker. This week, King announced it was withdrawing its US trademark application, but only because it had been able to acquire the 2004 trademark on Candy Crusher, which it says offers "the best option for protecting Candy Crush in the US market."
Clearly, King knows all too well what butters its bread. Earlier this month, King got off its candy ass long enough to file paperwork for its initial public offering, from which it aims to raise $500m. The filing reveals that King earned $568m in profit in 2013 on revenue of $1.884b, 78% of which came from Candy Crush alone, which launched in October 2012. King's 2012 numbers show the company's revenue was a mere $164.4m, while profits were just $7.8m.
The filing also revealed that the percentage of King's players willing to pay real money to continue crushing candy averaged 4%, two-and-a-half times the bookings figure Zynga cited in its most recent quarterly report. Impressive, but many observers feel King is in a race against time to take itself public, as Candy Crush's bookings dipped slightly in Q4 2013, suggesting its popularity may have already peaked. King's second most popular title, Pet Rescue Saga, has less than one-sixth of Candy Crush's user base, suggesting King has a way to go to demonstrate that it's not a social gaming one-hit wonder.
Comments