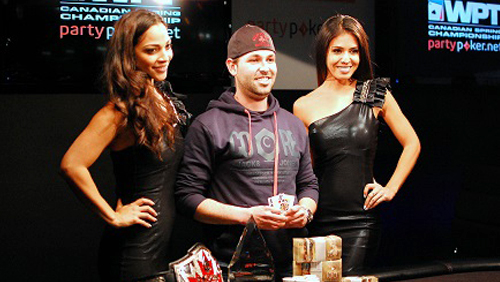 Jason Comtois takes the PartyPoker.net WPT National: Canadian Spring Championship title after defeating John Paul Tabago in heads-up action at the Playground Poker Club in Montreal.
The Playground Poker Club in Montreal is a hotbed of poker.
The World Poker Tour (WPT) love the place, and another huge field turned out in support of the tour, as 1,079 players ponied up the $1,100 CAD buy-in, making it one of the largest National Series events in the seasons calendar.
27 year olds Comtois and Tabago both came into the final table as the short stacks, but were able to ride the momentum of their crucial double-ups to take them into the heads-up phase of action.
Here is how the action went down…
Both short-stacks doubled through Mario Lim, and in desperation he moved all-in holding [Kc] [3c] and was called by Johnny Mazzaferro holding [Ah] [Js]. The board stayed clear of any upsets and Lim was out in sixth place for $32,638.
Alexander Wong would be the next to hit the rail when he got all of his chips into the middle holding pocket sixes on a flop of [Kc] [8d] [5h] against Daniel Gagne holding [Ks] [8c] for top two pair. No third six and Wong had to settle for $40,301.
Comtois then doubled up to create a sturdier wall of chips, and it was Mazzaferro who walked straight into them with devastating effect to become the fourth place finisher.
Mazzaferro moving all-in with [Qd] [Jd] and Comtois calling with the dominating [Ah] [Qc], and despite two diamonds showing up on the flop, a third never arrived and Mazzaferro was soon at the cash desk holding a check for $54,019.
Then a bad beat for Gagne to send the tournaments into heads-up.
Gagne raised to 850,000 on the button and then called a 2m three-bet from Tabago from the big blind. The flop was [Qh] [9s] [3c] and both players checked. The turn card was the [Jd] and Tabago bet 2m, Gagne clicked it back to 4m, Tabago moved all-in and Gagne called. It was Gagne holding [Kc] [Td] for the nuts, and Tabago needing some help to improve upon a set of nines. The river card was a [3s], to give Tabago a full house, and Gagne was out.
The heads-up encounter saw Tabago take a 2:1 chip lead but Comtois would double up and take the chip lead, before the final hand of the tournament saw Comtois moving all-in with [Ac] [Kd], Tabago calling with [Qs] [4s] and a king on the flop sent the Comtois rail into raptures.
Final Table Standings
1st: Jason Comtois – $160,999
2nd: John Paul Tabago – $112,770
3rd: Daniel Gagne – $73,130
4th: Johnny Mazzaferro – $54,019
5th: Alexander Wong – $40,301
6th: Mario Lim – $32,638