Danielle Moon-Anderson has fulfilled a lifelong dream by finally signing on the dotted line for an online poker site, in a sponsorship deal that will see her uproot and move to Las Vegas.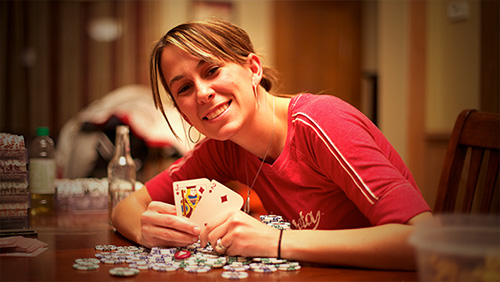 The transfer window may be closed in the European football leagues, but not so in poker as Danielle Moon-Andersen becomes the latest player to be fortunate enough to pick up a sponsorship deal after signing on the dotted line for the American outfit Ultimate Poker.
Andersen was one of the stars of the poker documentary Bet Raise Fold when in 2010 cameras followed her every move as she tried to juggle life as a full time mother and professional grinder just before Black Friday turned her life upside its head.
Throughout the documentary Moon spoke constantly about her dream to one day become a Full Tilt Poker sponsored pro, and her dream was partly fulfilled when FTP sponsored her for the 2013 World Series of Poker (WSOP) Main Event.
As nice as that was, it is nothing compared to the way she must be feeling after finally securing a longer-term deal with an online poker site.
Speaking in an Ultimate Poker video Andersen said: "I got to meet Antonio Esfandiari and he was super nice. I even got to see a little bit of his magic. I had dinner with Dan O'Brien last night and him and I are going to have a lot of fun egging each other on, and Jason Somerville has been a friend for a while. He is a super nice guy and I am super proud to be a part of the team alongside all of these wonderful poker players.
"Ultimate Poker is the perfect fit for me. I have been a fan of Ultimate Fighting Championship (UFC) for a long time – and to be a part of that family – I can't think of a better fit."
Andersen is a fighter alright, and it's fantastic to see that her grit and determination has finally paid off.
Comments